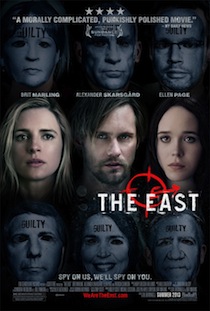 Espionage thriller The East comes out this Friday and Trey had the chance to chat with cowriter and actress Brit Marling. As a young creative force, Brit Marling cowrote and acted in a number of recent independent hits including Another Earth and Sound of My Voice. So Trey could not wait to ask her a few questions about her new film The East and about being a filmmaker in general.
I got to talk to Brit Marling, and what a thoughtful, intelligent, creative person she is. Her new film The East is an exciting update to the espionage thriller, and I had a ton of questions for her about the film, being a filmmaker, and her approach to her craft.
How does Brit Marling work with cowriter and director Zal Batmanglij? What are the different challenges that come with writing versus acting? Where did Brit's inspiration for The East come from? Did she get her morning coffee?
All of these questions are answered in the interview linked below.
Like all of my phone interviews, the conversation becomes less an interview and more just two people geeking out over films. Because of this the partial transcript below does not do justice to the delightful conversation. My suggestion? Read the transcript then listen to the full audio link below. It's well worth the 25 minutes.
Trey: Since you have collaborated with Zal Batmanglij on a couple of films in the past, and since you wrote and acted in both Sound of My Voice and The East what was the nature of the collaboration with him? Since you helped develop the character of Sarah/Jane and then you're performing the character of Sarah/Jane were there ever times where you said, "I've got this; I'm good," or how did it work?
Brit: One of the great things about working with someone that you've known for so long and trust so deeply and who's taste in performance you trust is that when we're on set together I really trust Zal as a guide. He's very sensitive to things and he has a way of talking to actors.
He'll never give a note that's "This but faster," or "I need you to laugh, or cry." He never gives demonstrative direction. He'll come over and say, "That was good. Here's where you are in the story. Here's what's going to happen to you. Here's what's happening right now. How do you think this makes you feel?" He gives direction that keeps you inside of the story rather than outside of yourself. It's one of the reasons why I love to work with Zal, and I love to write with him because we both see the world similarly. So it's a lot of fun to write a screenplay together.
Trey: I was going to save this question for later, but now seems like a perfect time to ask it. I'm interested in the distinction between the creative process when it comes to writing, and the creative process when it comes to acting. The writing side of it, to me, seems more like free play. You're unrestrained. You can explore, you can wander, and as along as you're being true to the characters there is freedom there. Where as acting seems more editorial; you're molding something, at least as I perceive it.
Brit: One of the things that is helpful is that when you're part of the writing process you have the freedom of pushing a character in a direction that you want to try as an actor. A lot of times there is the old Hollywood cliché that you do a character well once and then every script that you ever see is the same kind of character. It's hard for people to image you outside of what they've come to know you for.
As an actor you don't want to play the same part again. You want to be challenging yourself and finding roles that are outside of you. That's the great part of the writing process is that you can push character almost to the point that makes you feel uncomfortable. You're not sure you're going to be able to pull it off.
I felt that about Sarah. She's incredibly different from me, and I didn't have any real models for her. Finding her sense of morality and physicality. I had to do a lot of training. I learned krav maga and did some of my own stunts in the film. The physical component was as exhausting as the emotional component. It was intense.
What's great about acting is that at the end of the day your job is to, after being really well prepared, to almost light that preparation on fire or throw it out. You just need to be free and in the moment to see what beautiful spontaneous stuff comes up. Just let go and allow those things to happen. It's this incredible dichotomy of the left and right side of the brain, and heart probably too.
Click the link to listen to the full audio for my interview with Brit Marling, which includes additional questions and conversation.