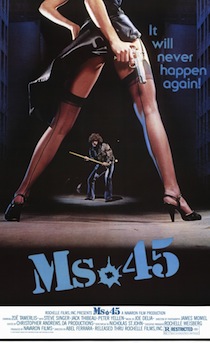 Why should you go see Abel Ferrara's Ms. 45 tonight at Alamo Drafthouse KC?
Because it's AMAZING, that's why.
Beyond this being a breakout movie from a young director of exploitation films, you'll get to experience a key work from an underrated filmmaker in the same vein as Don Coscarelli and Walter Hill.
Ms. 45 follows Thana (Zoë Lund), a mute seamstress in New York. When she is brutally raped, she kills her attacker and takes his handgun. As she attempts to continue in her daily routine, she becomes Ms. 45, an angel of death, exacting revenge from any man she encounters.
The overt allegory mixed with affective low quality special effects is what makes films of this era, which extends from the mid 1970s to the early 1980s, so delightful. You can talk with glee about the discovery of Thana's victim's body parts by a hungry homeless man, chuckling about the overacting, but Ms. 45 also allows for headier dialogue.
You could point out that one of Thana's attackers holds their knife at crotch level before plunging it into Thana's back. A discussion of rape, sexuality, and visual metaphor is absolutely worthwhile in regards to this grindhouse classic.
Abel Ferrara would go on to make more highly acclaimed films such as King of New York, Bad Lieutenant, and The Addiction, but Ms. 45 is Ferrara's first step into a world of films that straddle the line between exploitation and engaging indie.
You can see Ms. 45 tonight at Alamo Drafthouse Kansas City. The print is magnificent and to see it in the theater with other cinephiles will be a treat.
Click here for tickets and more information.