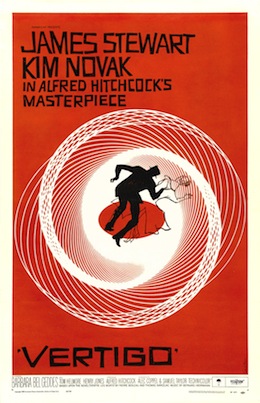 The Kansas City Art Institute and Alamo Drafthouse have joined forces to bring you Film School, a weekly student curated film series. Film School brings important films back to the big screen for your viewing enjoyment. This June and July we're focusing on B-movie, cult, and classic Summer movies. Heavy Metal, Point Blank and Armageddon are just a few of the visual treats that Drafthouse Film School has to offer you this Summer.
This Saturday, May 25th Drafthouse Film School brings you one of the most personal films of Alfred Hitchcock, Vertigo (1958). Based on the french novel D'entre les morts by Boileau-Narcejac, Vertigo follows the story of a detective that retires after a cop is killed saving him from falling off of a building. He is called out of retirement to investigate the wife of his college friend. The friend claims his wife is possessed by a spirit and travels around during the day with no memory of where she has been.
The film stars James Stewart, Tom Helmore and Kim Novak.
This week we're in the 2:15 PM timeslot. Alamo Drafthouse will have its lunch menu available. Come on down to the Drafthouse and join Film School for the greatest film ever made.
The screening is Saturday, May 25th at 2:15 p.m. All Film School Screenings are just $5.
For tickets and information click the link or call (816) 474-4545.