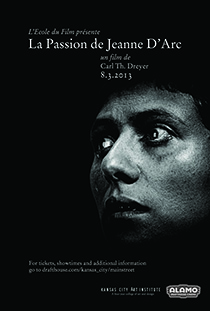 The Kansas City Art Institute and Alamo Drafthouse have joined forces to bring you Film School, a weekly student curated film series. Film School brings important films back to the big screen for your viewing enjoyment. This June and July we're focusing on B-movie, cult, and classic Summer movies. Heavy Metal, Point Blank and Armageddon are just a few of the visual treats that Drafthouse Film School has to offer you this Summer.
This Saturday, August 3rd, join Drafthouse Film School for Carl Theodor Dreyer's The Passion of Joan of Arc (1928). This silent film classic tells the story of the trial of Jeanne d'Arc for her charges of heresy, and the efforts to make her recant her claims of holy visions. Maria Falconetti's stunning performance, as Jeanne d'Arc, is one of the best performances ever documented on film.
The screening is Saturday, August 3rd All Film School Screenings are just $5.
For tickets and information click the link or call (816) 474-4545.