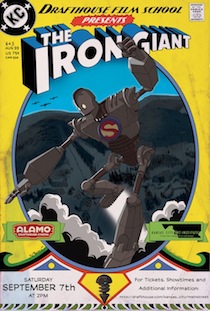 The Kansas City Art Institute and Alamo Drafthouse have joined forces to bring you Film School, a weekly student curated film series. Film School brings important films back to the big screen for your viewing enjoyment. School's back in session we've got some incredible films from across the cinematic spectrum. Iron Giant, Chinatown and Eraserhead are just a few of the lessons that Drafthouse Film School has in store for you this semester.
This Saturday, September 7th Drafthouse Film School presents Brad Bird's The Iron Giant (1999). A Critically acclaimed animated feature and cult favorite, The Iron Giant is about the friendship between a kid growing up in the 1950's and a robot he discovers out in the woods. However it's not just another Warner Bros. kid's film, The Iron Giant deals with the panic of The Cold War and choosing one's own destiny.
The screening is Saturday, September 7th All Film School Screenings are just $5.
For tickets and information click the link or call (816) 474-4545.