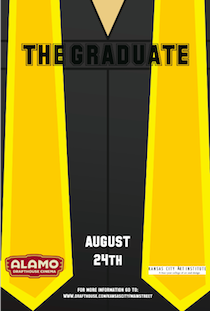 The Kansas City Art Institute and Alamo Drafthouse have joined forces to bring you Film School, a weekly student curated film series. Film School brings important films back to the big screen for your viewing enjoyment. School's back in session we've got some incredible films from across the cinematic spectrum. Iron Giant, Chinatown and Eraserhead are just a few of the lessons that Drafthouse Film School has in store for you this semester.
This Saturday come see a film about seduction and plastics. August 24th Drafthouse Film School presents Mike Nichols' Oscar Winning film The Graduate (1967). Dustin Hoffman stars as recent college graduate Ben Braddock. While Benjamin tries to figure out what he is going to do with the rest of his life by drinking beer and lying around the pool all day, Mrs. Robinson (Anne Bancroft), a family friend, suggests an affair to pass the time. Things get all the more complicated when Elaine (Katharine Ross), Mrs. Robinson's daughter, shows up.
The screening is Saturday, August 24th All Film School Screenings are just $5.
For tickets and information click the link or call (816) 474-4545.