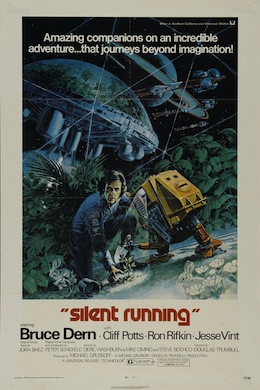 The Kansas City Art Institute and Alamo Drafthouse have joined forces to bring you Film School, a weekly student curated film series. Film School brings important films back to the big screen for your viewing enjoyment. From American classics like Who's Afraid of Virginia Woolf? to cult classics like The Road Warrior to exceptional foreign fare such as Band of Outsiders Drafthouse Film School has you covered.
Saturday, April 27th come on down and enjoy one of the most underrated science fiction films of all time. The directorial debut of one the greatest special effects artists, Douglas Trumbull (Blade Runner, 2001: A Space Odyssey), Silent Running is a thought provoking interstellar drama about a future where no forests remain on planet earth. Instead our last remaining vegetation floats in giant shuttles out in the cosmos. When an event jeopardizes the last of all of our remaining plant life, it becomes the mission of an astronaut groundskeeper to save the last forests in existence by any means necessary.
Featuring an amazing lead performance by Bruce Dern, some jaw dropping special effects, and a killer Joan Baez theme song, Silent Running is a science fiction extravaganza that no one should miss.
The screening is Saturday, April 27th at 3 p.m. All Film School Screenings are just $5.
Click here for more information and to purchase tickets.