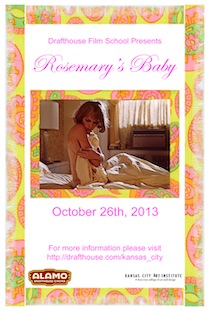 The Kansas City Art Institute and Alamo Drafthouse have joined forces to bring you Film School, a weekly student curated film series. Film School brings important films back to the big screen for your viewing enjoyment. School's back in session we've got some incredible films from across the cinematic spectrum. Iron Giant, Chinatown and Eraserhead are just a few of the lessons that Drafthouse Film School has in store for you this semester.
This Saturday, October 26th Drafthouse Film School presents one of the most perfect psychological horror films ever made. Roman Polanski's 1968 film Rosemary's Baby is a study in anxiety, control, and paranoia. It explores a young woman's obsession and ambivalence towards her own unborn child, and accentuates her small communities fixation on her pregnancy.
Polanski's film was a gesture to a time in horror that was ending, when terrors were hinted at but rarely seen. Rosemary's Baby is also an early precursor of much of the body horror films that would come in the 1970s and 80s. It's a perfect fit for your pre-Halloween weekend.
The screening is Saturday, October 26th All Film School Screenings are just $5.
For tickets and information click the link or call (816) 474-4545.