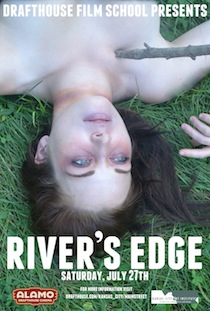 The Kansas City Art Institute and Alamo Drafthouse have joined forces to bring you Film School, a weekly student curated film series. Film School brings important films back to the big screen for your viewing enjoyment. This June and July we're focusing on B-movie, cult, and classic Summer movies. Heavy Metal, Point Blank and Armageddon are just a few of the visual treats that Drafthouse Film School has to offer you this Summer.
This week Drafthouse Film School gets at the zeitgeist of the 1980s with Tim Hunter's amazing film River's Edge. Films like Airplane!, One Crazy Summer or Back to the Future often define the cinematic summer of the 1980s, but in 1987 River's Edge was able to tap into the apathy and misplaced emotions that was bubbling underneath all of the summer fun.
River's Edge follows a high school student who kills his girlfriend. When he tells his friends, they react in bizarre fashion to the crime. The film features incredible performances from Dennis Hopper, Keanu Reeves and Crispin Glover.
The screening is Saturday, July 27th All Film School Screenings are just $5.
For tickets and information click the link or call (816) 474-4545.