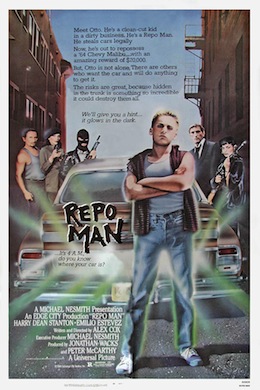 The Kansas City Art Institute and Alamo Drafthouse have joined forces to bring you Film School, a weekly student curated film series. Film School brings important films back to the big screen for your viewing enjoyment. From American classics like Who's Afraid of Virginia Woolf? to cult classics like The Road Warrior to exceptional foreign fare such as Band of Outsiders Drafthouse Film School has you covered.
This Saturday, May 11th, join Drafthouse Film School for Alex Cox's cult classic Repo Man (1984). This science fiction comedy is Cox's first full-length film set in desolate Los Angeles where Otto (Emilio Estevez), a middle-class punk gets a job as a repo man. Otto's new job may be more than he bargained for and takes him on a bizarre adventure involving aliens, the CIA, and a very valuable 64' Chevy Malibu.
The screening is Saturday, May 11th at 2 p.m. All Film School Screenings are just $5.
For tickets and information call (816) 474-4545.