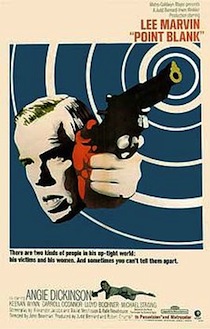 The Kansas City Art Institute and Alamo Drafthouse have joined forces to bring you Film School, a weekly student curated film series. Film School brings important films back to the big screen for your viewing enjoyment. This June and July we're focusing on B-movie, cult, and classic Summer movies. Heavy Metal, Point Blank and Armageddon are just a few of the visual treats that Drafthouse Film School has to offer you this Summer.
This Saturday, June 29th Alamo Drafthouse Film School brings you the cult crime thriller Point Blank (1967). Double-crossed and left for dead, Walker (Lee Marvin) will stop at nothing to get back a small amount money back from his wrong-doers. Based upon the pulp novel The Hunter by Richard Stark, Point Blank is a gritty man done-wrong tale that's a B-movie delight.
Point Blank is directed by John Boorman and stars Lee Marvin and Angie Dickinson.
The screening is Saturday, June 29th at 2:00 p.m. All Film School Screenings are just $5.
For tickets and information click the link or call (816) 474-4545.