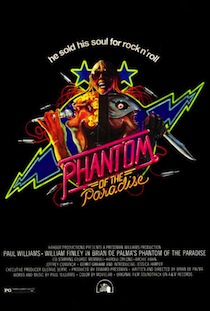 The Kansas City Art Institute and Alamo Drafthouse have joined forces to bring you Film School, a weekly student curated film series. Film School brings important films back to the big screen for your viewing enjoyment. This June and July we're focusing on B-movie, cult, and classic Summer movies. Heavy Metal, Point Blank and Armageddon are just a few of the visual treats that Drafthouse Film School has to offer you this Summer.
It's time to sell your soul for rock and roll!
This Saturday, June 22nd, join Drafthouse Film School for Brain De Palma's cult classic Phantom of the Paradise (1974). This rock opera is part The Phantom of the Opera part The Picture of Dorian Gray, and a sprinkle of the German legend Faust. It is the story of a disfigured composer (William Finley) who makes a deal with the devil so that the woman he loves will perform his music. Betrayal is just around the corner when a record executive steals the composer's music.
This week we're in the 2PM timeslot. Alamo Drafthouse will have its lunch menu available. So join us for this classic rock and roll infused De Palma film.
There will also be a costume contest. Come as a character from Phantom of the Paradise, 1974, or just one of your favorite theatrical rock and rollers. There will be a prize pack for each of the top three costumes.
The screening is Saturday, June 22nd at 2:00 p.m. All Film School Screenings are just $5.
For tickets and information click the link or call (816) 474-4545.