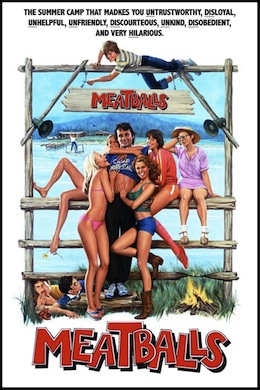 The Kansas City Art Institute and Alamo Drafthouse have joined forces to bring you Film School, a weekly student curated film series. Film School brings important films back to the big screen for your viewing enjoyment. This June and July we're focusing on B-movie, cult, and classic Summer movies. Heavy Metal, Point Blank and Armageddon are just a few of the visual treats that Drafthouse Film School has to offer you this Summer.
This Saturday, June 1st Drafthouse Film School kicks off the summer with the grandfather of all summer camp movies, Meatballs (1979). This film would launch Bill Murray's career as a comedic lead, and was the beginning of a partnership between Murray and director Ivan Reitman that would include Stripes, Ghostbusters and Ghostbusters II.
Though it gets a lot of credit for being an early teen-sex-comedy, Meatballs has a lot more heart than most remember. The friendship that develops between the wacky counselor Tripper Harrison and the awkward Rudy Gerner might even hint at Bill Murray's talent that would expand through his later films like Rushmore, Broken Flowers and Lost in Translation.
This week we're in the 2:00 p.m. timeslot. Alamo Drafthouse will have its lunch menu available. Come on down to the Drafthouse and join Film School for some Summer Camp high jinks.
The screening is Saturday, June 1st at 2:00 p.m. All Film School Screenings are just $5.
For tickets and information click the link or call (816) 474-4545.