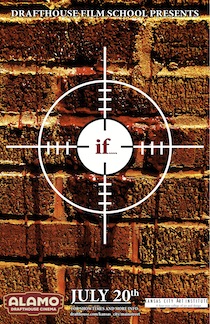 The Kansas City Art Institute and Alamo Drafthouse have joined forces to bring you Film School, a weekly student curated film series. Film School brings important films back to the big screen for your viewing enjoyment. This June and July we're focusing on B-movie, cult, and classic Summer movies. Heavy Metal, Point Blank and Armageddon are just a few of the visual treats that Drafthouse Film School has to offer you this Summer.
This Saturday July 20th, join Drafthouse Film School for Lindsay Anderson's If…. (1968). In Malcolm McDowell's film debut, before playing Alex DeLarge in Stanley Kubrick's A Clockwork Orange, he played Mick Travis, a boy attending a boarding school in England. With the help of his young school chums he defies authority at every twist and turn.
A stunning example of the British New Wave, If…. is funny, disturbing and raw. Join us this Saturday to see it on the big screen.
The screening is Saturday, July 20th at 2:00 p.m. All Film School Screenings are just $5.
For tickets and information click the link or call (816) 474-4545.