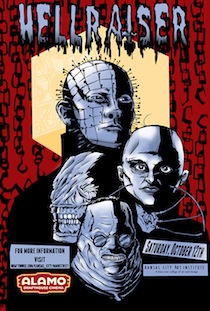 The Kansas City Art Institute and Alamo Drafthouse have joined forces to bring you Film School, a weekly student curated film series. Film School brings important films back to the big screen for your viewing enjoyment. School's back in session we've got some incredible films from across the cinematic spectrum. Iron Giant, Chinatown and Eraserhead are just a few of the lessons that Drafthouse Film School has in store for you this semester.
This Saturday, October 12th, Join Drafthouse Film School for Clive Barker's horror classic, Hellraiser (1987). This was the film that put Pinhead and the rest of the Cenobites into your dreams or nightmares – depending on what you are into. When a disloyal wife comes into contact with the zombie of her dead lover, she must help him become human again as well as help him escape sadomasochistic demons from Hell.
The screening is Saturday, October 12th All Film School Screenings are just $5.
For tickets and information click the link or call (816) 474-4545.