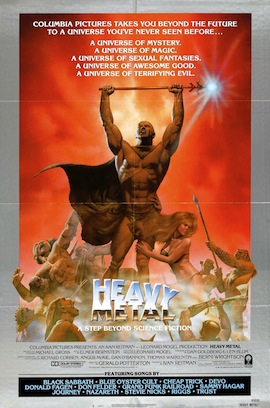 The Kansas City Art Institute and Alamo Drafthouse have joined forces to bring you Film School, a weekly student curated film series. Film School brings important films back to the big screen for your viewing enjoyment. This June and July we're focusing on B-movie, cult, and classic Summer movies. Heavy Metal, Point Blank and Armageddon are just a few of the visual treats that Drafthouse Film School has to offer you this Summer.
This Saturday, June 15th Drafthouse Film School presents the animated Canadian cult classic Heavy Metal (1981). Based upon the sci-fi illustrated magazine of the same name, Heavy Metal is an anthology of some of the magazine's violent and erotic stories centered around a magical globe that tells these stories to a young girl who's fate hangs in the balance. Directed by Gerald Potterton and starring Susan Roman, John Candy and Don Francks, Heavy Metal was the winner of the 1982 Genie Award and Golden Reel Award.
It is the definition of an animated cult classic, and best seen in the theater with a bunch of like-minded filmgoers. So grab your one way ticket to midnight, and join us for Heavy Metal.
The screening is Saturday, June 15th at 2:00 p.m. All Film School Screenings are just $5.
For tickets and information click the link or call (816) 474-4545.