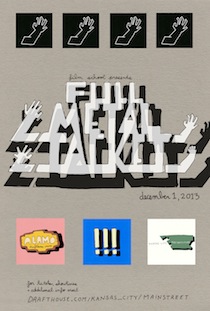 The Kansas City Art Institute and Alamo Drafthouse have joined forces to bring you Film School, a weekly student curated film series. Film School brings important films back to the big screen for your viewing enjoyment. The semester is getting hectic as we move into November and December. With finals looming, only films like Badlands, Dancer in the Dark and All the President's Men can keep you prepared.
There is no denying it. Drafthouse Film School loves Stanley Kubrick. This Sunday, December 1st Film School presents yet another of this amazing director's films, Full Metal Jacket. Kubrick explores the mental stresses on a platoon of marines during the Vietnam conflict. The breakdown of Pyle, and Joker's stoic acceptance of the horrors of war have been burned into our cultural memory.
Alamo will have its lunch menu available. Which is a good thing because you may need a milkshake to get through this one.
The screening is Sunday, December 1st All Film School Screenings are just $5.
For tickets and information click the link or call (816) 474-4545.