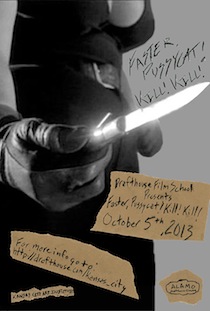 The Kansas City Art Institute and Alamo Drafthouse have joined forces to bring you Film School, a weekly student curated film series. Film School brings important films back to the big screen for your viewing enjoyment. School's back in session we've got some incredible films from across the cinematic spectrum. Iron Giant, Chinatown and Eraserhead are just a few of the lessons that Drafthouse Film School has in store for you this semester.
This Saturday October 5th, Drafthouse Film School presents Russ Meyer's legendary Faster, Pussycat! Kill! Kill! Known for its provocative take on gender roles in film, its unflinching dissection of violent exploitation, and its busty babes being badass, Pussycat follows three go-go dancers seeking dangerous thrills as they cross through the Mojave desert. It's cool. It's crazy. It's premium grind house.
The screening is Saturday, October 5th All Film School Screenings are just $5.
For tickets and information click the link or call (816) 474-4545.