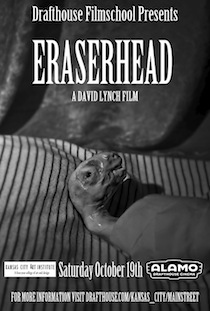 The Kansas City Art Institute and Alamo Drafthouse have joined forces to bring you Film School, a weekly student curated film series. Film School brings important films back to the big screen for your viewing enjoyment. School's back in session we've got some incredible films from across the cinematic spectrum. Iron Giant, Chinatown and Eraserhead are just a few of the lessons that Drafthouse Film School has in store for you this semester.
This Saturday, October 19th Drafthouse Film School presents David Lynch's Eraserhead. Lynch's first feature was far from a guaranteed cinematic or artistic success. It was shot over several years and funded in part by its cast including Jack Fisk and his wife Sissy Spacek. Even after the film was released, the reception was mixed until Eraserhead found its home amongst the patrons of midnight movie screenings in the late 1970s.
Now considered a classic from a visionary director, Eraserhead is often cited alongside the works of other great surrealists such as Luis Buñuel or Franz Kafka. Come see a brand new 35 mm print of this amazing film.
The screening is Saturday, October 19th All Film School Screenings are just $5.
For tickets and information click the link or call (816) 474-4545.