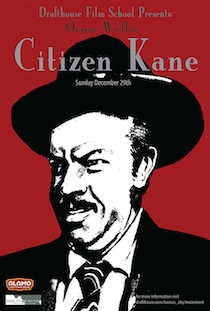 The Kansas City Art Institute and Alamo Drafthouse have joined forces to bring you Film School, a weekly student curated film series. Film School brings important films back to the big screen for your viewing enjoyment. We're into winter break but that doesn't mean the great movies stop. As the weather turns cold, Film School will keep you warm with M, Amadeus and Brazil.
There is a motion picture that all film aficionados must tackle at some point. This Sunday, December 29th Drafthouse Film School tackles that film. Film School ends the year with a presentation of Orson Welles's Citizen Kane. So enormous is the lore and criticism that surrounds Citizen Kane that it is all but impossible to see it for an incredible masterwork from a young prodigy. Presented on the big screen, every deep focus detail that Welles and cinematographer Gregg Toland provide will be available for scrutiny in a stunning clarity not possible on the small screen. If you think that Citizen Kane is overrated, the greatest film of time, or you just want to know what all the fuss it about, then you must see this film on the big screen.
Join us as we say goodbye to 2013 with one of the greatest films ever created.
The screening is Sunday, December 29th All Film School Screenings are just $5.
For tickets and information click the link or call (816) 474-4545.