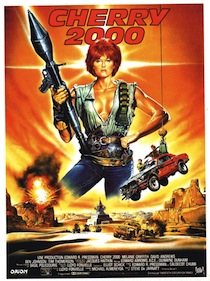 The Kansas City Art Institute and Alamo Drafthouse have joined forces to bring you Film School, a weekly student curated film series. Film School brings important films back to the big screen for your viewing enjoyment. This June and July we're focusing on B-movie, cult, and classic Summer movies. Heavy Metal, Point Blank and Armageddon are just a few of the visual treats that Drafthouse Film School has to offer you this Summer.
This Saturday, June 8th Drafthouse Film School continues its summer movie fun with the genre bending Cherry 2000 (1987). Set in a dystopian future where women are marginalized and replaced by robotic servants, Cherry 2000 is part Margaret Atwood's The Handmaid's Tale and part Mad Max. It is a mix so weird and wonderful that Orion had no idea how to market the film to the public.
Come join Film School in a journey across a futuristic wasteland with Melanie Griffith and David Andrews. It will be a great summer activity.
The screening is Saturday, June 8th at 2:25 p.m. All Film School Screenings are just $5.
For tickets and information click the link or call (816) 474-4545.