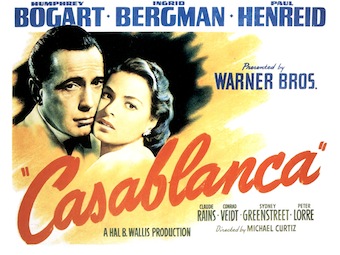 The Kansas City Art Institute and Alamo Drafthouse have joined forces to bring you Film School, a weekly student curated film series. Film School brings important films back to the big screen for your viewing enjoyment. From American classics like Who's Afraid of Virginia Woolf? to cult classics like The Road Warrior to exceptional foreign fare such as Band of Outsiders Drafthouse Film School has you covered.
This saturday, May 18, come join us at the Alamo Drafthouse as we finish off the semester with one of the best movies ever made, Casablanca by director Michael Curtiz. This film explores the emotional drama of choosing between love and a higher purpose all while thwarting the Nazis in Morocco. Come and experience Casablanca, where the hopeful and the desperate wait…and wait…and wait.
This week we're in the 3:40 PM timeslot. Alamo Drafthouse will have its lunch menu available. Come on down to the Drafthouse and join Film School for a great film, no exit papers required.
The screening is Saturday, May 18th at 3:40 p.m. All Film School Screenings are just $5.
For tickets and information click the link or call (816) 474-4545.