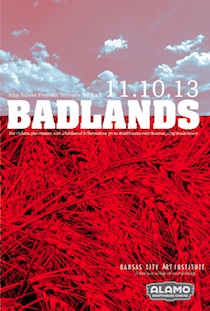 The Kansas City Art Institute and Alamo Drafthouse have joined forces to bring you Film School, a weekly student curated film series. Film School brings important films back to the big screen for your viewing enjoyment. The semester is getting hectic as we move into November and December. With finals looming, only films like Badlands, Dancer in the Dark and All the President's Men can keep you prepared.
This Sunday, November 10th Drafthouse Film School presents Badlands, the first feature offering from director Terrence Malick. This debut feature showcases the beginnings of Malick's lyrical visual style while giving a fictionalized account of the Starkweather-Fugate murders.
Troubled lovers in the Badlands just work with Malick's unique vision and made a dramatic entrance for the young filmmaker. Dodge the law and grab some grub at the Alamo this Sunday.
The screening is Sunday, November 10th All Film School Screenings are just $5.
For tickets and information click the link or call (816) 474-4545.