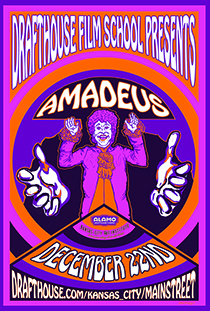 The Kansas City Art Institute and Alamo Drafthouse have joined forces to bring you Film School, a weekly student curated film series. Film School brings important films back to the big screen for your viewing enjoyment. We're into winter break but that doesn't mean the great movies stop. As the weather turns cold, Film School will keep you warm with The Seventh Seal, Amadeus and Citizen Kane.
This Sunday, December 22nd Drafthouse Film School presents Milos Forman's Amadeus. At this point in his career, Milos Forman's sensibilities had shifted from that his early work, but his control of his medium was still stunning. By telling the story of the whimsically brash Mozart through Antonio Salieri, Forman makes this personal/professional rivalry all the more pointed. The scale, lush visuals, and a soundtrack comprised of some of the most incredible music ever created make Amadeus a perfect film to break up the holiday season.
The screening is Sunday, December 22nd All Film School Screenings are just $5.
For tickets and information click the link or call (816) 474-4545.