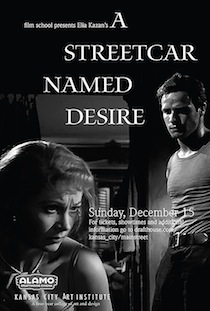 The Kansas City Art Institute and Alamo Drafthouse have joined forces to bring you Film School, a weekly student curated film series. Film School brings important films back to the big screen for your viewing enjoyment. We're into winter break but that doesn't mean the great movies stop. As the weather turns cold, Film School will keep you warm with The Seventh Seal, Amadeus and Citizen Kane.
This Sunday, December 15th Drafthouse Film School presents Elia Kazan's A Streetcar Named Desire. Rarely has ugly ever been so beautiful as in Tennessee William's wrenching story. The desperation and longing felt by Stanley, Stella, Blanche, and Mitch is palpable and oozes from the screen. The performance from Marlon Brando is oft caricatured, yet maintains a raw authenticity. And to think, it was just Brando's second feature film.
Alamo Drafthouse will have its lunch menu available. You'll need an iced tea to survive the steamy New Orleans atmosphere.
The screening is Sunday, December 15th All Film School Screenings are just $5.
For tickets and information click the link or call (816) 474-4545.