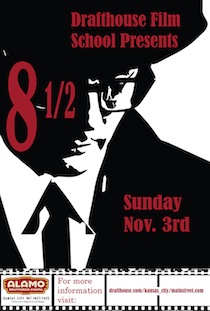 The Kansas City Art Institute and Alamo Drafthouse have joined forces to bring you Film School, a weekly student curated film series. Film School brings important films back to the big screen for your viewing enjoyment. The semester is getting hectic as we move into November and December. With finals looming, only films like Badlands, Dancer in the Dark and All the President's Men can keep you prepared.
This Sunday, November 3rd Drafthouse Film School presents arguably the greatest film about filmmaking ever made. Federico Fellini's 8½ was met with incredible acclaim including two Academy Awards. It consistently tops the BFI's list of greatest films and even made the Vatican's list of best films. Come see why this film is so universally loved.
Join stalled director Guido as he tries to get through his latest film endeavor. The Alamo will have its lunch menu available so have a snack and watch a masterpiece.
The screening is Sunday, November 3rd All Film School Screenings are just $5.
For tickets and information click the link or call (816) 474-4545.