Film criticism in a bubble is irrelevant to the modern filmgoer and arguing taste is only gratifying to the writer. Michael Bird's new column The Contrarian seeks to justify those who find their Tomatometers out of calibration with the critical norm.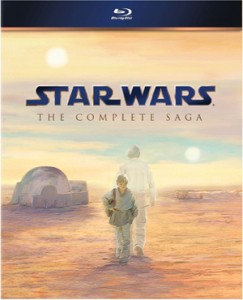 I am a lifelong fan of Star Wars. I was four and half when I saw the first film's original run in theaters. In some ways, I can recognize more of my DNA in the saga than in some of my ancestors. I know without question that Star Wars planted seeds in me that would eventually make me an artist.
I'm not unique. Star Wars had that effect on a lot of people and no one needs another testimonial to the transformative experience of seeing it. The reason that proclamation is so trite now is because, as a truth, it initially bore very little subjectivity. Having your mind blown by Star Wars in 1977 was a reliable service exchanged for your ticket-buying dollar. And it's kind of hard for some people to believe or even remember that now.
This past weekend, the Star Wars saga got released on Blu-ray. And with another format release comes a new round of tweaks to the films. Beginning with the Special Editions released to theaters in 1997, Star Wars creator George Lucas has regularly tinkered with the effects, dialogue, music and film structures, while refusing to bring older cuts forward. This has caused no small amount of rancor.
Each time Lucas makes these adjustments, an unending argument is dredged up. Those with the time to feel passion about such things bleat their familiar refrains: "Lucas has gone too far this time — he's changed the films beyond recognition!" screams one side, as the other defends, "Well, they're his films to change!"
I have to admit, I'm well beyond tired of the debate.
A Vocal Minority
Lucas's detractors will tell you that he has monkeyed with the films to the point that they've lost their magic, while his proponents obviously feel quite the opposite. One side feels their specific memory of the films ought not be tinkered with, while the latter feel the new editions keep the saga fresh. The complainants swear they'll never spend another dollar on Star Wars — and some of them will actually keep their promises, though most won't. Meanwhile, an abiding pool of the pleased and loyal keep Lucas flush with cash.
And that is the real reason that Lucas is indifferent to the complaints — they come from an excessively vocal minority. That's something that people who complain about the revisions seem to forget — they're a minority. If a third of the potential market for these films truly stood their ground and refused to buy them, Lucas might stop changing them. And even if that weren't true, how much could one respect Lucas for making the revisions despite the potential financial ramifications? That certainly doesn't fit the familiar, greedy caricature Lucas's critics paint of him.
To my mind, neither camp is right nor wrong absolutely. Some people welcome some of the changes but curse Lucas for others. The heart and essence of the films remain the same and their charm is still deeply embedded for me. I agree with some of the complaints, while others seem petty and, well, overblown. Watching the original saga again this weekend (for the several-hundredth time), I was struck at how my awe and appreciation were still close at hand. Yes, it has become a rote experience to some extent. I know the dialogue by heart, but somehow my love for the films was nonetheless still right there, unwavering.
It Still Works
Certainly complaints over the use of CGI elements to mask poorly-executed effects from the past has hit-and-miss resonance with fans. Some of the effects were pretty dodgy, despite being groundbreaking. They were reaching beyond their capabilities and they didn't always make it. I can personally testify that watching Luke Skywalker's landspeeder roll across the desert via a mattress of vaseline smeared on the camera lens used to pull me right out of the drama. It has since I purchased my first VHS copies. Those days are gone and I couldn't be more pleased to be rid of them.
But I hear you ask: Don't I care that Han shot first? I could weigh in on the debate with my opinion (and trust me, I have one), but it truly doesn't matter who fired first. A split second of effects timing doesn't change the performance that Harrison Ford invested in the role or the character arc he crafted over the course of his three performances. Let's just remember that Han Solo won that duel, no matter the timing.
I watched especially closely the most-changed of this re-release, 1983's Return of the Jedi. Don't I care that Darth Vader screams "Noooo," at the end of Jedi, just as he did at the oft-mocked conclusion of 2005's Revenge of the Sith? I didn't mind the scream in Sith and I barely noticed it in Jedi. It neither depleted the scene of its drama for me, nor enhanced it. It was just different than what it was before. I have to admit, I actually teared a tiny bit at Darth Vader's death. I cannot recall the last time I did that, if ever. Were the changes made to it what tipped it over for me? No, I'm sure they weren't, but it did happen and if the films had been substantively depleted of their original punch, or at least compromised by the changes, should that be possible?
Nostalgia is Dangerous
At this point, Star Wars isn't only a vehicle for revisiting one's childhood and I do not understand how fans of the original trilogy can be confused over this point. To me, it seems they are engrossed in an intractable love affair with their own nostalgia. I can recognize why they'd like him to, but it seems silly to resent Lucas for not being respectful of their sentimentality.
As it stands, 30-odd years later, the Star Wars experience exceeds the comfortable, warm little corner of their childhood they wish would go undisturbed (or "raped" as the also oft-mocked expression goes). It has more than doubled it, if you are to count TV shows and whatnot. While I sympathize with them, because I recognize who much of a touchstone this film is for a lot of people, there were never any guarantees that change wouldn't reach even that which one might normally take for granted. As we get older, we are regularly asked to adapt to change. This is such a short curb compared to most of what life deals us.
What Lucas is Afraid Of
Now, I did mention that I didn't feel either side was entirely right or wrong and I do think Lucas deserves to be called out on the carpet for at least a couple of shameless displays of hubris. In one of the commentary tracks for A New Hope, Lucas justifies his modifications, saying that painters and other artists commonly make tweaks to their paintings over the years, correcting and adjusting as time moves forward. This is patently wrong, if not altogether dishonest. Few artists if any do this, and those that do certainly don't have an option to do that after the painting has been sold. Imagine paying several thousand dollars for a painting to have the artist show up at your front door one day to ask if they can touch up their piece. Would you trust them? I'm an artist and I wouldn't let them in the door.
Lucas is fixated on changing/perfecting these movies because he is afraid of failing at making new films. Artists don't change their past work — they accept their mistakes, learn from them and put their energy into making new films. That's how filmmakers grow over time. Lucas has directed a total of six films and only two that weren't in the Star Wars series. And even those came before Star Wars. At that, if you take Lucas at his word that he was only executive producer of The Empire Strikes Back and Return of the Jedi, how do you suppose the deceased Richard Marquand would feel about his aesthetic decisions being revised posthumously? The most generous way to even regard it is that Marquand was only meant to be the puppet of the producer. From this point of view, Lucas's actions seem perhaps very wrong and certainly disrespectful at least.
I do love the prequel trilogy, but I would readily concede that Lucas's aesthetic was damaged by his long lay-off. The prequels admittedly lack some of the character-driven charm of the original trilogy, but they do expand the scope and tell a story that is engaging for me (if not always well-acted). I could put together a fairly cogent defense for each of the films, but that's sort of outside the scope of this piece.
For those who would grumble about the films, they should bear in mind that most children who grew up in the era of the prequels hate the original trilogy with almost the same derisive impatience that their parents have for the prequel trilogy (especially the plodding pacing of A New Hope). And these aren't just Jar Jar apologists; they're ardent fans of the newer movies most old-school fans don't bother to watch anymore.
New Blu-ray Box Set Delivers 
All of this quarreling aside, I'm very happy with the films on Blu-ray, and the long-requested deleted scenes alone will have many of Lucas's detractors lining up to shell out for the new set. The sound is fantastic, the picture is much-improved (while not perfect) and the supplements are rich. Not all of the deleted scenes from previous releases have been ported forward, so if you have the original DVD releases, you will need to hang on to them. Those original DVDs also contain fantastic documentaries (especially the superb Empire of Dreams: The Story of the Star Wars Trilogy which was included in the 2004 DVD box set) that haven't been included here either, though there is a wealth of new documentaries to compensate for their exclusion.
Lucas has always been conscious that the Star Wars films were derivative of the B-movie serials of his youth. They have never been fine art. They are melodrama. They are fantasy. They're certainly not Biblical texts to be handled with reverence, though that's another classic saga that's seen numerous revisions over the years, and has had extremists lose the plot for the trees. No, Star Wars is entertainment. Ask yourself: Did you love Star Wars because of Vader's silence at the end of Jedi? If you did, then truly — it sucks to be you.
For all the other aspects of Star Wars that I love, it is a very good time to be a fan. I watched nine Blu-rays worth of material over the weekend and I assure you I enjoyed every minute.