Lots of strange movies came in and out of the house when I was a kid, whether they were obscure rentals from Four Star Video—the small, non-chain store across the street from my town's high school—or recordings off of TV numbering in the thousands. Stuff like True Stories and Vamp was commonplace and in good company, and My Dinner With Andre was something I'd viewed curiously in the form of our store bought copy for as long as I can remember.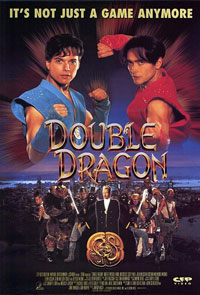 That being said, I have no recollection of Double Dragon (the double "Double" situation is something I didn't realize until this very moment, writing) entering our domicile, but its presence is something I can trace pretty far back. Unfortunately, it's a shitty movie. And not too coincidentally, its accompanying picture in 1995′s Guyver: Dark Hero is also a shitty movie. Both films, unequivocally shitty, scarcely deserve the distinction. They're two examples of low-budget filmmaking that fail to make a compelling case for their respective bracket.
But still, there's something here. I swear to God, man. I mean—look. Let's be serious for a moment: There is no such thing as a "good" Godzilla movie. There just isn't. I'm not saying it's impossible, and I actually think in the hands of Gareth Edwards (Monsters), the character could be rendered with as much dignity as something like Jurassic Park. I'm also not saying there aren't Godzilla movies that function well according to their basic requirements. What I'm saying is that you can't look at a single existing Godzilla  movie (save for the original, unique among the series in tone) and honestly say it's a good film. And yet there isn't one among them I enjoy for ironic reasons. Even Godzilla's Revenge. I'm all about it.
Now, while I don't think exactly the same could be said of, say, all Bruce Lee movies, I will say that the dubbed versions most of us grew up with were almost unspeakably bad in that regard, and took away from the gritty—narratively sound—visceral appeal present in at least a few of the films. This was when The Big Boss was still Fists of Fury and Fist of Fury was The Chinese Connection. And The Way of the Dragon was somehow Return of the Dragon, complete with the description on the back of the box identifying it as a SEQUEL to Enter the Dragon!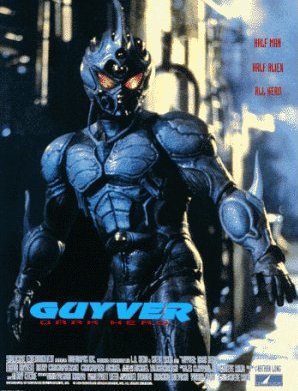 The titling alone should indicate the degree to which these people could not have given less of a fuck about respectfully transmuting these flicks for Western audiences. The Chinese Connection in particular has one of the worst all-time dubs, with a set of voices that sound like they were performed by the same two guys on a long, uninspired weekend, and dialogue so stilted and inane, translated so poorly, it actually makes the shit people say in Godzilla vs. Mecha-Godzilla come across like 2001-level technical jargon with a Shakespearean streak. But again, I enjoy it on its own terms.
And to cheerfully digress, I actually think the poor quality of the dubbing elsewhere might account for the widely held belief that Enter the Dragon is not only Lee's best film, but a staple and one of the best of the genre. But you know what? I guarantee there isn't a single kung-fu fan with love for acrobatic, onscreen combat deeply embedded in his or her heart that really prefers it to The Big Boss or Fury. It's really simple, actually: You make us fart around for what feels like 45 minutes before we see Bruce Lee kicking the shit out of anyone, and his big, final fight is with a one-handed geriatric he trounces with so little effort the dude has to flee into a giant set of corridors whose walls are made up entirely of mirrors and play hide and seek before taking a SPEAR to the chest.
That widely held belief in the superiority of Enter the Dragon can mean only two things, and that's that the dubs are in fact so bad they discredit Lee's earlier pictures completely, and/or that the critical community really has its collective head up its collective ass when it comes to genre films and what people want out of them. Yes, the mirror stuff is dynamic, and who doesn't love to hear "It's like a finger pointing away to the moon"?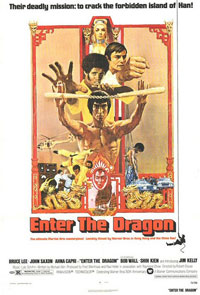 But come on. You're telling me when you see Bolo and Lee about to square off, and John Saxon takes the fight your heart doesn't sink? Yeah, that's what we want to see. No, no thanks. Definitely don't wanna see Bruce Lee fight the physically imposing adversary, better let the non-martial artist Caucasian take the bout. Let the greatest martial artist of all-time throttle the maimed.
And holy shit. If you're still with me after all of that, you must be a kindred spirit in these matters, so I'll continue addressing you as such. 800 words deep and I've barely even touched on today's two flicks. In any case, at least it's consistent, being that schlock is the operative theme here. Loveable schlock.
Videogame and anime adaptations tend to result in the absolute worst action-adventure cinema regurgitated into existence. It makes a lot of sense. Videogames suffering this fate I can tolerate, partly because I've never been much of a gamer beyond endless sessions of various Tekken and Street Fighter incarnations (I've never played Halo or Modern Warfare in my entire life, played Call of Duty once), punctuated by the occasional excursion with Grand Theft Auto. And partly because I don't think much of the content lends itself to sophisticated entertainment. It's just too thin. Maybe things are different now, and those Mortal Kombat shorts definitely show promise, but I don't know.
Ironically enough, I'm all about anime adaptations of video games. Proud owner of the 26-episode Street Fighter II anime series box set, as well as the feature length adaptation (the one with Korn on the soundtrack. Nothing's perfect). Yeah, see, I really don't know. Maybe it's not about thin content. Maybe it really is about Hollywood studios not taking the content seriously across the board. What bothers me the most is that I actually think I understand where they're coming from.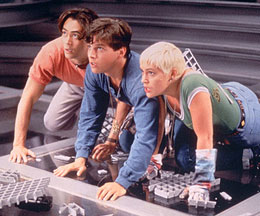 However, that doesn't excuse the dismal output. If you're worried the audience for games and anime is smaller or more selective than film audiences of a similar disposition, or that they don't intersect, why match the perceived low quality of the original material with lackluster production? And here we are again, full circle, because maybe it's that the content in videogames is too thin to substantiate worthy live-action cinematic interpretations. After all, Street Fighter Alpha is pretty well regarded. I mean, it's not Ghost in the Shell or fucking Princess Mononoke, but it's dramatically compelling and visually interesting. I'd be interested to know how much of the background information in that movie pervades the videogames themselves. Anyone?
Returning to the point, if you're not going to elevate schlock, you've got to either wink as you go or fuck off home and find something else to ruin. It's that simple. Why did the Dragon Ball Z adaptation in 2009 flounder and fail and end up despised? Because in the year 2009—only one year after two fantastic comic book adaptations came out with Iron Man and then The Dark Knight completely changing people's perceptions of what that variety of source material could produce—they took the most beloved anime of all-time LESS seriously than they did Mortal Kombat in 1995, when CGI outside of Jurassic Park was just barely peaking at the level of The Mask.
It's really shameful. Even Nickelodeon's faux anime Avatar: The Last Airbender was taken more seriously than Dragon Ball Z, and that's taking into account not only Shyamalan's gross mishandling but his atrocious reputation as of late as well. You wanna make a good movie out of Dragon Ball Z? You treat it like it's Lord of the fucking Rings. You're telling me you can't foresee a DBZ adaptation done right being something of an international box office phenomenon? Take it as seriously as Hellboy for Christ's sake! It's just superhuman martial arts. The list goes on. And on. In all directions. But they all return to the same point: Hollywood doesn't care.
Exhibit A:
Double Dragon (1994)
Set in a post-nuclear global climate catastrophe in the seemingly far off, now 100-percent laughable year of 2007, Los Angeles has become New Angeles. Bizarre gangs run rampant, forcing lock downs and police to retreat during the nighttime hours. Underground fights are interrupted by earth quakes. Smog envelopes the city. Andy Dick is the weatherman. What the hell is going on with this movie? Scott Wolf and the guy who starred in the first The Crow sequel play brothers (who ethnically preclude that possibility I might add). They are both martial artists raised and trained by this Asian chick that their father gave them to. I don't know much about the videogame, as I was more into the cartoon as a kid on the rare occasions I caught it on TV, but I do know there's just about nothing in common between the source material and this movie. Literally almost nothing at all. Not even the powers they attain. It's shockingly different.
Exhibit B: Guyver: Dark Hero (1995)
I've got to say, diametrically opposed to the prior, the source material here is some of my favorite stuff in the realm of anime. I have a deep connection to it, going way back. Sort of the basis of my affinity for this most spectacularly fetishistic, nerdy-as-fuck genre of entertainment, along with DBZ. I got the entire original 12 episode series on VHS one birthday about a decade ago. It's everything you'd want in an anime, kind of like a much smaller in scope, terser YuYu Hakusho, with its high-school characters dealing with the unsought attainment of superpowers and facing monstrous foes. That stuff grants it an appeal not unlike Spider-Man. And in a way, to be deliberately simplistic, the Guyver is basically a mechanized Venom. It's an alien weapon, a "bio-booster armor," created millions of years ago by ancient aliens who engineered us as a species (by fucking monkeys, just to be clear) and bred us for military purposes. Pretty bleak backdrop for a show that basically centers around an awkward high-school kid who gets powers and fights mercenary soldiers who morph into giant monsters.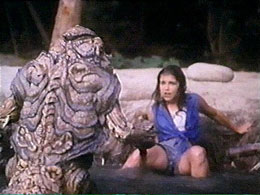 All of that having been said, it pains me to divulge the following: this particular adaptation adheres to almost none of that, save for the way the suit looks and the fact that he's fighting "Zoanoids" engineered by "Chronos." That's really it. All the contextual appeal is done away with, culturally uprooted and transplanted, ages changed, stories altered. It's a real mess. The worst part is this happens to be a sequel to an even worse adaptation: The infamously deceptive original Guyver, with its cover fooling people for years in video stores across the country into thinking "Mark Hamill plays the 'Guyver'?!" The film also has J.J. Walker's villainous Zoanoid freestyling every chance he gets. I wish I were kidding. I own both of these films, by the way. I wish I were kidding about that as well. Interesting trivia: Sean Barker in the sequel is played by the man who would go on to write the first two X-Men movies, David Hayter.
But there's a silver lining. There has to be. I've done nothing but list everything wrong with everything ever made. This is a sincere recommendation. In the case of Guyver: Dark Hero, there's one component that affords the enterprise some transcendence, and that's the FX work. Say what you will about the script and performances, film quality and location work (indoors and in the woods, wow), when you give an FX guy (Steve Wang) the director's chair as well, you can at least expect one area to be personally envisioned and painstakingly executed.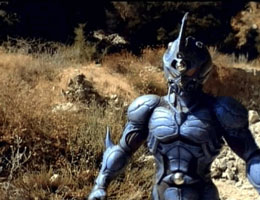 It's really astonishing. The suit allows for a wide array of movement, and on an aesthetic level probably surpasses even the more-than-competent suit cosmetics and puppetry of the Teenage Mutant Ninja Turtles (make it "Seeing Triple"!) franchise (is that term appropriate?), and infinitely more complicated, with the suit's machinery being vast and diverse, spanning its entirety, not to mention fitting the original's appearance just about perfectly. The Zoanoids are slightly less impressive, and their interactions are puzzlingly off balance. Even early in the anime, the inexperienced Sho never got bested by assembly line Zoanoids one-on-one. It's as insulting as Godzilla being taken out by missiles in Roland Emmerich's abortion (talk about not giving a shit). Also, it has him roughhousing with regular humans in the opening scene, assuming the vigilante role, even going so far as to laser the word "GUYVER" on the wall after murdering a dozen drug dealers in a warehouse. It's just all over the place. My man's catching bullets and kicking stuntmen onto breakaway tables.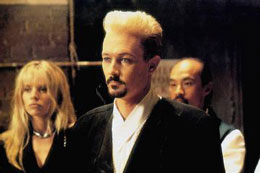 Double Dragon is appealing in its ambitious, tragically and gloriously over-the-top technical incompetence, with the lead Party of Five[r] unable to kick above knee-level and fighting endless opponents with the least convincing martial arts this side of, well, Mortal Kombat, alongside his unconvincing sibling employing actual martial arts, both of whom were supposedly trained in tandem. They fight mutants and possessed cyborg corpses and although Alyssa Milano with a blonde crew cut is plenty preposterous, Robert Patrick's villain with the Vanilla Ice situation really distinguishes itself. If you can't find something to love out of that stockpile, I'd have a hard time finding something to love about you. And while I began by suggesting appreciation for such reputable shitty movies as Godzilla vs. Anything or the dubbed Chinese Connection need not necessarily be ironic in nature, it should be clear the two films in focus today are nearly impossible to appreciate otherwise.
Genre failures in the action-adventure department tend to amass more ironic appreciation than other more noble, unsuccessful efforts in epic or dramatic filmmaking. Nobody's getting stoned and throwing on Fat Man and Little Boy or Australia, for example. But Guyver: Dark Hero and Double Dragon? Contraband is what led me here. If this is a little late in the game to throw this at you, I apologize, but you should really consider facilitating some kind of buzz before embarking on an evening with these two flicks. They are shitty. But both achieve a kind of Power Rangers-for-stoned-adults status, for whatever it's worth; Guyver in particular. Lazy kung fu in an enchanted suit taking on prosthetic monsters can't help but bring to mind everything from Ultra-Man to that Mighty Morphin dogshit my generation weekly devoured. As one mildly pretentious closing song to one mildly pretentious movie asserts, "There's beauty in the breakdown."
But seriously, these movies are terrible.