Here's two really cheesy horror flicks that may brighten your Halloween movie-watching this season:
Bloody Pit of Horror (1965)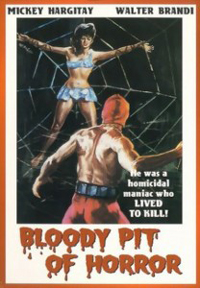 The offspring of heavy metal and MST3K re-runs, Incognito Cinema Warriors XP is one of the best things to find its way into my DVD player in ages. I got in contact with Rikk Wolf, one of the creators and the show's primary actor and did an interview for the Pitch back in March.
As prep for the interview, Rikk sent me a couple of episodes. One of them was the absolutely atrociously hilarious Bloody Pit of Horror. It's an Italian movie from 1965, and features a series of Rube Goldberg-like killing devices, and Mickey Hargitay leaping around like an oiled-up, body-building Zorro with a thirst for blood.
The film is rife with killing and blood that looks suspiciously like red paint. Not a single death is believable, nor does any of them take place with anything less than absurd amounts of set-up. The giant poisonous spider is worth a look in and of itself, as it manages to make Saw's Jigsaw killer look to be the height of restraint.
The ladies in the film are scantily-clad, but if you're watching this with a view to stroke material, you'll be sadly disappointed. Despite the implied chance of curvacious nudie cuties prancing around a castle, you'd be better off ogling the ladies in the Sears catalog.
Bloody Pit of Horror is one of those terrible films that still manages to be enjoyable, even sans-riffage, which makes the ICWXP crew's jibes and cutting quips all the funnier. For a movie to get riffed properly, it has to be somewhat watchable. A real groaner is so boring, you're apt to find something else that's legitimately entertaining.
The Creeping Terror (1964)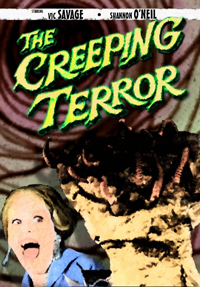 What better way to take a break from the rampant seriousness of most horror flicks than to watch a horror flick by way of Mystery Science Theater 3000? Thanks to TV's Frank, Dr. Clayton Forester, Mike Nelson, and the robots on the Satellite of Love, I got to relax and watch The Creeping Terror, rather than something dark and oppressive.
"Why, it's not creeping. This terror is fairly clipping along."
Really, it's MST3K. The movie is terrible, not scary, and the whole reason for watching this is for Mike and the robots' commentary, although in this case, the narration itself manages to do just as much as the gags in terms of humor. That narration makes The Creeping Terror less like Day of the Triffids, and more like a Centron educational film.
"You wanna get back to the script?"
A giant alien creature that looks like something like a reject from Gwar's stage show runs rampant in a small community. Seriously, the "creeping terror" looks like a bunch of gents under a large shag rug. Narration and terrible effects make the the screams that the sheriff makes inside the spacecarft really disturbing for such a low-budget film. It's like watching Garth Marengi's Darkplace: cheesy, cheesy, crappy, HOLY FUCK SCARY, crummy, lousy, etc.
Same goes with the serious amount of ass-shaking during the dancehall sequence, and the abundant numbers of young ladies shown necking, be it on Lover's Lane, a picnic, or in a living room. I can't figure out if the Creeping Terror is a crappy horror film, or crappy teensploitation flick. Probably both.
One of the better Mike episodes of MST3K, too, although the interstitial isn't nearly as good as the commentary during the movie. Worth picking up, especially as you get The Skydivers in the four-pack of flicks in which this film comes.
Halloween Horror Marathon originally appears at Nick's excellent blog Rock Star Journalist.