Director Tarsem Singh's Immortals debuted at number one the weekend before last, and even though reviews have been poor (mostly due to the a derivative screenplay), most everyone agrees the movie sports a remarkable visual sense. Roger Ebert said, "Immortals is without doubt the best-looking awful movie you will ever see."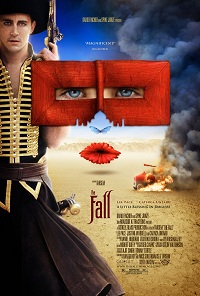 Regardless, on Immortals and his impenetrable 2000 debut feature The Cell, a ridiculous serial-killer thriller, Tarsem Singh was a director for hire. The Cell shoehorned a Vince-Vaughn-and-Jennifer Lopez-led police procedural plot into Tarsem Singh's beautiful and bizarre fantasy sequences, which took place in the mind of said serial killer. It didn't make a lick of sense emotionally or narratively, but it proved the director has a knack for eye-popping visual flair. While being pretty to look at, it was nevertheless an utter bore.
In the mid-00s, however, Tarsem (as he was known then) retreated and financed a labor-of-love project and shot it completely outside of the Hollywood system. It premiered at the Toronto Film Festival in 2006, and finally got a limited theatrical release in the U.S. in 2008, thanks to in part to Spike Jonze and David Fincher, whose names were tacked on as "presenting" the film.
Simply out, The Fall is a remarkable film.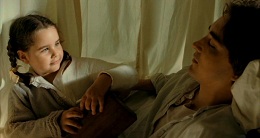 If you have read anything about this movie, you are already aware that its exotic locations, artfully designed camera angles, and colorful art direction make it a unique experience. What I'd like to mention, then, is something equally, if not more, remarkable: the performance of its lead actress, the young Romanian actress Catinca Untaru.
Catinca Untaru plays Alexandria, a precocious little immigrant girl recovering from a broken arm in an early 1920s Los Angeles hospital. There she meets Roy (Lee Pace), a bed-ridden movie stuntman who can't feel his legs and is also despondent over the loss of his girlfriend. Looking for something a little more devious than just her company, he begins to enchant Alexandria with a tale of five adventurers on a trip to exact revenge on an evil governor named Odious.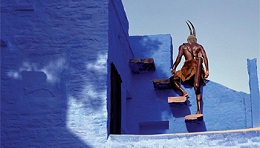 The Fall is based on a 1981 Bulgarian movie called Yo Ho Ho. The ornately designed fantasy sequences in The Fall not only make far more sense with the story, but they provide a context for the two hospital-ridden pals to act out. Roy's imagination feeds Alexandria's, and when the depressed storyteller gets bored, the young girl adds her own fanciful interpretation. People from the hospital become characters in Roy's story, only decked out in flashy costumes and possessing great powers. It's a small part The Wizard of Oz and another bit Pan's Labyrinth, though not nearly as jarring and violent.
Pace and Untaru have an unusual chemistry that is so interesting and real, it absolutely drives the fantasy sequences. Her reactions are so unaffected it's as if she's not even working off of a script. (According to supplementary DVD material, Lee Pace remained in bed for most of the shooting at the insistence of Tarsem so that his 6-year-old lead actress would better accept the idea of his character's physical limitations.)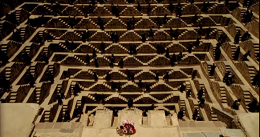 Sometimes she stumbles over her words, searching for the right way to communicate with Roy, just as a little girl who is new to the country would. Background on Alexandria is sketchy, but we do know hat her house was burned down when she was younger and her father now occupies an iconic place in her dreams. The moments between her and Roy are more than just sweet; they take on an almost tragic tone from the beginning because we suspect Roy's ulterior motives while Alexandria does not.
The Fall was filmed over four years in 23 countries and Tarsem, a successful director of music videos and commercials, put up tons of his own money to make it.  While its not exactly what one would consider a mainstream film by any means, it has an undeniable emotional pull and the opportunity to appeal to a much wider audience than it had been given the opportunity to — especially as an alternative to summer blockbusters. It made a paltry 3.2 million worldwide.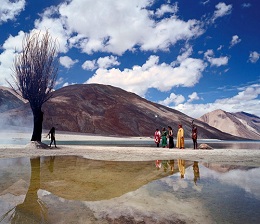 It's also nice to see Tarsem deliver some surprising humor to lighten up the proceedings every now and then. It brings the pretentious-meter down, resetting it to zero before it's inevitable rise up again every couple of minutes.
So is the man who conjures up aesthetically pleasing images that are specifically designed to get us to buy things also capable of carrying off a story with genuine soul and character development? The answer to this often-asked question is very simple: Yes. Tarsem Singh avoids computer generated graphics as much as possible to create a look that is almost exclusively in-camera.
I think on some subliminal level, this approach pays off because, as far out as the imagery he presents is, it always feels like it is actually there. It actually exists, in some form or another. The more CGI that becomes common in movies, the more likely we are to feel when it's not being used, on some level. As fantastic as the story sequences in The Fall are, we are grounded by the fact that characters we believe in have created them, and they have happened right there in front of our eyes.
The film ends with a wholly-appropriate montage of stunt clips from the early days of film that hold that very same kick.
If you enjoy Tarsem Singh the visual stylist but you haven't seen The Fall yet, you owe it to yourself to be introduced to Tarsem Singh the storyteller.