Stephen Glass is a really good liar. No, scratch that, he is a Triple-A number one world-class liar.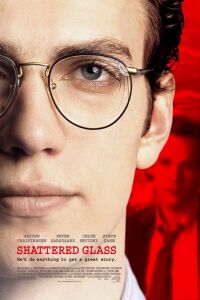 You see, magazines have fact checkers upon copy editors upon fact checkers who pore over stories before they are published and hit the newsstands, especially at an elite magazine like the New Republic. They have to make sure that the sources are credible and the stories are accurate.
But from 1995-1998, celebrated young writer Stephen Glass partially or completely made up at least 27 of the 41 articles he wrote for New Republic magazine.
Shattered Glass is the movie based on his story, and despite that it was well-reviewed at the time, the film grossed a paltry $2 million in its theatrical release, never climbing above the rank of 21 in any weekend box-office take.
One reason that  Shattered Glass, which tells the young "journalist's" story may have been so critically acclaimed during the winter of 2003 when it came out is that all the people raving about it were journalists, and they understood why this story is such a violation of journalistic integrity.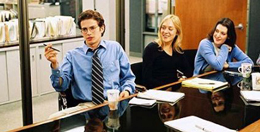 The other reason may be that Shattered Glass is a fascinating and compelling movie.
Seen previously in Star Wars Episode II:Attack of the Clones, Hayden Christensen showed us in 2003 that George Lucas' poor dialogue and directing might have been the real reason the acting is so stiff in the new Star Wars movies. Then again, we haven't heard much from him since either.
Either way, Hayden Christensen is pitch-perfect as the charming and sadly sympathetic Stephen Glass. It's something of a revelation to watch Christensen's child-like take on someone who wants acceptance so bad that he's willing to concoct all sorts of elaborate lies to support his entertaining stories.
We don't get to see much of Glass' background or influences, but we get a clear look at someone who is so desperate for attention that he merely tells everyone what they want to hear. Journalistic ethics don't mean much to a man who thinks he's done nothing wrong, and that hollowness is perfectly embodied by the handsome and confident Christensen, who you could definitely believe people giving the benefit of the doubt to (like his co-stars Rosario Dawson, Chloë Sevigny, Melanie Lynskey, and Steve Zahn, in solid but small supporting roles).
In one of his stronger early turns, Peter Sarsgaard plays Stephen Glass' newly appointed editor who faces the daunting task of taking over the job of his extremely well-liked predecessor. Sarsgaard's Chuck Lane is all inner turmoil. You can see his brain boiling and his mind reeling all behind a fairly cool veneer.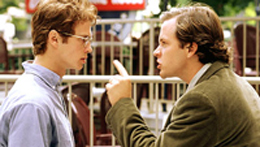 Lane then faces another daunting task in unraveling the thickly wound web of lies and concurrent cover-ups that Glass has concocted. It's a terrific performance from Peter Sarsgaard, and the mistrust of his other writers and their love for the affable Glass makes it all the harder for him to maintain control of the situation.
First-time director Billy Ray (who also wrote the screenplay) is someone who has written some truly awful films, such as the Bruce Willis-Jane March erotic "mystery" Color of Night and the disaster flick Volcano, but the only other film he's written and directed is another overlooked movie, the 2007 FBI thriller Breach starring Chris Cooper, and also based on a true story.
But he did something special in Shattered Glass. Billy Ray created that rare movie that is about a code of honor, but goes further keeping the action firmly grounded in its human side. Shattered Glass is really an examination of these two personalities and how they react under extreme pressure.
By putting the audience right there in the character's shoes, he forces us to deal with more than a simple ethics violation. Shattered Glass is a small movie, and it makes its mark the way most good indie movies do—with a great story, people you believe, and something to say.