Judi Dench received her sixth Oscar nomination for the darkly funny oddball drama Notes on a Scandal in 2007, just as Fox Searchlight hoped she would when they released it during awards season. As an extra bonus, Cate Blanchett also received a supporting actress nomination as well — her third.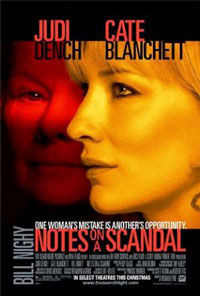 The movie went on to gross a respectable $17 million and then promptly disappeared. Notes on a Scandal, however, deserves to be remembered as something more than a typical British awards-season acting showcase. It may be the most subversive movie that either of these respected actresses has been involved in.
Sometimes being pigeonholed can be a good thing. In the last 25 years or so, we have come to expect Judi Dench to play the older lady in some  lavish period piece who bucks some kind of societal tradition in a charming, but fairly safe, manner.
So it is a pleasant surprise to see Dench be rotten and nasty in Notes on a Scandal. The wonder of her wickedly funny performance is that it also elicits so much sympathy.
The screenplay, adapted by Patrick Marber from a book by Zoë Heller, gives Judi Dench some rich material for sure. Barbara Covett (Dench) is a veteran London history teacher. She's a loner who explains all of her deepest thoughts in a diary, which we hear as voiceover narration. A window into her damaged psyche, this establishes her ulterior motives with some of the most barbed onscreen dialogue since Marber brought Closer to the screen two years earlier.
Despite her obsessive ramblings, however (which are delivered in a jarringly unsavory tone, especially considering what one expects from Dench), Barbara still connects with the audience on the basest of levels. An older woman who lives alone with a dying cat, she understands the need for companionship more than anybody. When she cannot get it, she becomes a wild beast.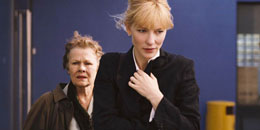 Judi Dench plays Barbara as a disciplinarian who regards her students as nothing more than a nuisance and views her job to be more sheepherder than educator. Barbara takes sick joy in watching new young art teacher Sheba (Cate Blanchett) arrive at the school filled with idealism, and looks forward to the day when her bubble will burst. She mocks her cruelly at first, but is soon attracted to Sheba's mix of naivete and vulnerability.
Apart from its devilish tone, Notes on a Scandal also has some interesting things to say about what constitutes a relationship. It's a given that our friends are the people we can tell our secrets to. Friends exist, after all, to support each other. But what value can one place on giving support?
As Barbara schemes in the latest volume of her seemingly never-ending diary, we realize that the elder teacher regards a secret as something more than a bond between two friends—it is a limitless supply of leverage.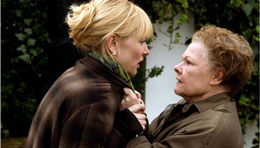 Credit director Richard Eyre (Iris, Stage Beauty) for some additional subtle character-building. He gives us Barbara's perspective throughout the movie visually as well, by fixing the camera's gaze on Sheba's exposed midriff or a strand of hair that falls from her head. We see the inexperienced teacher in the way Barbara does.
Blanchett is in top form as well. She radiates a natural sexuality that her character seems to be completely oblivious to. As Notes on a Scandal progresses, she's also oblivious to Barbara's deception, and it proves to be her undoing.
Dench's tightly pursed face and curt manner are refreshing when most of the other teachers are bland working stiffs. It's a guilty pleasure for us to slip into Barbara's skin for a while and view the world through her grizzled eyes. This is especially easy to do when Sheba makes consistently bad choices, and Barbara's pessimistic view of the school's evils seems right on the money.
The narration has an acerbic wit that strikes a chord by saying out loud the things that we often think but would never admit to thinking.
In the film's opening, Barbara tells us that she is often the keeper of other people's secrets. But who keeps hers, she asks? In Notes on a Scandal, it's the audience who keeps them and is also made culpable because of them by way of her illicit diary — and it's a naughty, electrifying place to be.