"I used to think God was angry, too, but not anymore! He used to jump on me like a wild bird and dig his claws into my head. But then one morning, he came to me. He blew over me like a cool breeze and said, 'Stand up!' And here I am."
When "The Last Temptation of Christ" came out in 1988, it wasn't "overlooked" so much as it was enthusiastically discarded. Characterized as blasphemous and derided accordingly by a very vocal subset of the Christian community, its theatrical run was average at best and afforded it only scarce popular notoriety.
But what precisely was the issue? And what, if anything, does that say about the film itself?
For one, approaching any beloved figure with objectivity and frankness automatically places the purveyor of such approach in hostile territory. In this case, the purveyor happens to be Martin Scorsese, who, in the somber depths of his Catholicism, found an unrelenting desire to adapt the controversial novel by Nikos Kazantzakis.
Secondly, approaching the central figure of the world's largest religion with objectivity and frankness places said purveyor in even less wholesome, less hospitable territory, especially when that approach entails the almost exclusive exploration of his previously unexplored human frailty.
Jesus Christ was always a fixture of the silver screen, but up to 1988 (and for the most part, since), he was presented as a bland, soulless conduit for platitudes and unflinching righteousness. Sure, lip service was paid to his dual nature as fully God and fully man, but the latter had no real cinematic explication until Scorsese came along.
There's no technique in American filmmaking as comfortably muted and interchangeably extravagant as that pioneered by the great director, and here, his gritty urban sensibilities flesh out the painful realities brewing beneath the surface. Consider the stillness with which he exhibits Jesus' initial visit to Mary Magdalene; it's quiet and observant and the scene's sultry, pheromonal atmosphere is left to its own formative devices. Contrarily, consider the kinetic energy of Jesus' cliff-side conversation with a monk concerning God's plan; the camera actually lunges over the edge at one point to underline dialogue.
The screenplay by Paul Schrader (Scorsese's collaborator on "Taxi Driver" and "Raging Bull" as well as "Bringing Out the Dead") is economical and precise and has a way of accelerating the story's forward motion without spelling things out in broad terminology. Jesus' dialogue is an exercise in self-doubt and perpetual, indirect pleading; he's a conflicted individual constantly seeking an exit strategy. And when circumstances necessitate his being expressive and professorial, there's an energy and directness in the writing that is exhilarating and beautiful.
Willem Dafoe plays the title role with a sincerity and internal pandemonium that would be impossible to imagine any other actor conveying. As unconventional as he can be in terms of his physicality and theatrical impulses, there's a conspicuous innocence in him that renders the complexity of the character infinitely more palatable. And while Harvey Keitel's Judas and Barbara Hershey's Mary Magdalene both feature prominently in the film, I feel compelled to instead dote on the brief appearance of John the Baptist, played by actor and theater director Andre Gregory, the co-writer and titular star of another one of my favorite overlooked movies, "My Dinner with Andre." (We'll save that for another Monday.) His conversation with Jesus about righteous anger and tactical violence against their adversarial empire touches on an ongoing debate within revolutionary political circles as well as religious and philosophical ones.
The film is brimming with creative flourishes and extemporaneous re-imaginings of key Biblical events, but perhaps its most ingeniously calculated component is the score by Peter Gabriel. It's a frequently slung cliche of cinematic commentary that the music "becomes a character" in a given film, but it's the only way to be accurate in this case. There's a melancholy-infused joy in each composition that takes on a life of its own (talk about commonly slung cliches) and crystallizes every respective scene. How would the Palm Sunday sequence play out, for example, without "A Different Drum" occupying its soundscape?
Ultimately though, what lies at the film's core goes beyond mechanisms of storytelling. It goes beyond fundamentalist pettiness and provocative creativity. What's really responsible for the film's momentum as a compelling parable and revelatory emotional experience is the struggle of its central character. Without that struggle, his sacrifice is a meaningless gesture.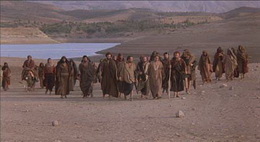 My first exposure to Christian mythology in any capacity was in Mass on my second or third day of Kindergarten. I was 6 years old, innately high-strung, and totally caught off guard by the gloominess and seriousness of the ceremony. The church was such an assaultive, hostile environment that as a result, I developed panic attacks and a genuinely crippling fear about my fate, postmortem. The thing that really set me off was something the priest said during his homily, and while the exact words elude me, the implication is something I'll never forget: Either love God or hate Him, but avoid indifference at all cost.
Now, at the time, my reactionary thought process was as such: "I don't know God, so I don't love him. But I also don't hate him for the very same reason. I'm indifferent and clearly hell bound. Holy shit. What do I do?" It didn't help that every depiction of Christ I was presented with left no room for struggle and redemption and focused on godliness and eviscerating temptation instead of humanity and facing temptation.
As an atheist, I can only experience the film as a technical achievement and an example of provocative, engaging, emotionally satisfying storytelling. The deeper truths it may or may not be peddling all but totally escape me.
Who knows, though? If Christianity's message earlier on in my life had been one of understanding and empathy, I might not have this perspective. I might be touting this film as the best vehicle for my Lord and savior instead of the best vehicle for everyone else's. Still, what remains is powerful filmmaking by anyone's standards.