"Death is the road to awe."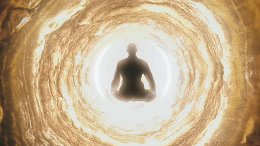 With "Black Swan" and "The Wrestler"—two handheld, gritty, comparatively magnificent pieces of work—now under his belt, Darren Aronofsky might see a second wave of consideration and approbation wash over his grossly misunderstood romantic sci-fi epic from 2006, "The Fountain."
The film's IMDb rating is 7.4/10, but its scores on both Metacritic and Rotten Tomatoes are decidedly split, with a broad stroke of disapproval from more mainstream outlets and demographics. Similar hardships have been endured by other game-changing science fiction classics, like "2001" or "The Terminator." It may very well be a rite of passage.
Alternating between three stories running parallel to one another over a period of a thousand years, "The Fountain" is a troubling examination of its propellant themes if nothing else. It is troubling not only in its insistence on implication over explanation, but in the very nature of what it sets out to do.
Hugh Jackman stars as Tomas, Tommy, and Tom, the central characters in each of their respective stories taking place 500 years apart, and Rachel Weisz is the recurring woman that their quests exist in the service of, whether in the form of self-deluded good intentions or not. Tomas is a conquistador in 16th century Spain, Tommy is a doctor in the modern United States, and Tom is a 26th century space traveler in Buddhist garb whose vessel is a golden orb co-inhabited by a large, dying tree.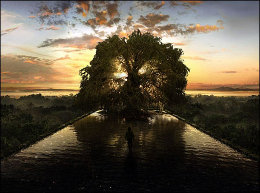 The three coinciding protagonists are deeply engaged in separate pursuits to conquer death; Tomas is looking for the biblical Tree of Life in South American jungles, Tommy is looking for a cancer cure in a similar vein, and Tom is heading for the Xibalba (a realm of the Mayan Underworld) nebula to be reborn. These threads are ambiguously rendered, interchangeably metaphorical, and at least one is fictitious even in the universe of the film.
And difficulty in pinning  down and reconciling them is what's perhaps easiest to dismiss about it. Or maybe it's the notion of needing to decode something that turns people off.
Either way, there's no shortage of interpretive possibilities in this particular case, and it's something of a task in appreciating or developing any serious response to a film without at least understanding its course of action from A to B.
Before his recent foray into the grainy neo-realism of the aforementioned (and critically acclaimed) "Black Swan" and "The Wrestler," Aronofsky was primarily known as an overzealous visual stylist, and "The Fountain" is a profound example of what's possible with ingenuity and minimal CGI. Using macro photography of chemical reactions in bizarre configurations, outer space is conveyed in a wholly fresh visual context, replete with pockets of golden light and shimmering space dust cascading them.
The earthbound cinematography is just as sumptuous. Weisz as the Spanish Queen Isabel is perpetually glowing in stark closeups, and the visualization of the Tree of Life (a notable exception to the film's nearly CGI-free FX methodology) nestled at the edge of a stone platform on the far side of a reflecting pool is truly indelible. Aronofsky doesn't have much patience for subdued imagination in the interest of forced subtlety.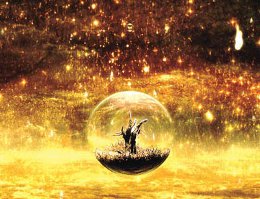 But at its core, "The Fountain" is a meditation on the thematic strands of love, death, immortality, and, ultimately, life. It's science fiction applied to the ubiquitous concerns of the human heart, and probably has more in common with "Eternal Sunshine of the Spotless Mind" than other contemporary sci-fi fare of its disposition.
It's a powerful visual and emotional exercise, mutually justifying in their excess, and it stands alongside his other work as a hugely successful, deeply felt achievement.