Blame continental drift. Blame the Atlantic Ocean, differing markets, blame whatever you like, but for whatever reason, there are an awful lot of British genre films (many of them indies) that slip through the cracks when they make the journey over to the States.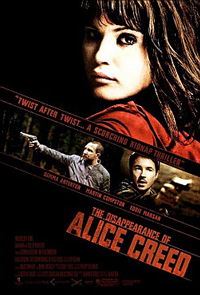 It's a shame too, since many of these movies are quite good, and deserve to be seen — movies like Eden Lake, Dead Man's Shoes, and any Neil Marshall movie that isn't The Descent. Well, now you can add The Disappearance of Alice Creed to the list.
It's a well-made crime thriller with solid writing and top-notch performances that got a decent amount of fanfare from British film critics, but never made much of an impact on audiences or critics on our side of the pond.
The Disappearance of Alice Creed comes from the same tradition as the best kind of crime movies, the sort that function as subversively entertaining fables. We're talking about sordid tales of greed and law-breaking which come to inevitably bad ends, even if the main character makes it out of the film alive, which isn't always a given.
In this respect, The Disappearance of Alice Creed joins the ranks of films like Layer Cake and A Simple Plan (another solid entry in the ranks of overlooked crime films) as a movie that successfully mixes entertainment and a lesson on the consequences of greedy desperation. The movie isn't exactly a popcorn-friendly romp, but it's worth watching for its compelling plot and excellent acting.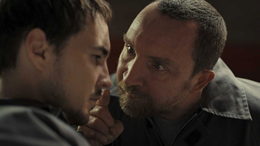 The film opens with two men, Vic (Eddie Marsan) and Danny (Martin Compston) meticulously preparing an abandoned flat for a kidnapping victim, in a sequence that plays like a bitter, disturbed British cousin of This Old House. They are planning the kidnapping of titular rich girl Alice (Gemma Arterton), which goes off more or less according to plan until it's discovered that Vic and Danny's victim isn't the easy target she first appears to be, nor is the situation as straightforward as it appears.
Suffice it to say there are a lot of emotions at play in the film —  complicated relationships, trust issues, and the sense that, no matter how events play out, nobody is going to walk away at the end unhurt.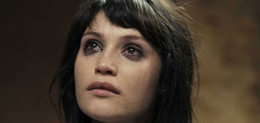 The first three-quarters of the The Disappearance of Alice Creed have a real theatrical quality to them, a vibe that comes not only from the limited cast and confined locations, but the quality of the script and the acting. Not only are the reveals of the movie intriguing and genuinely surprising, but the performances from all the actors involved are very impressive.
The dialogue requires that the atmosphere in the room turns on a dime depending on what's just come out of a character's mouth, or what their actions in a particular scene contradict their actions from the scene before. And damn if this cast isn't up to it. Compston is nerve-wracking as the upstart criminal who aims to manipulate the emotions of his partner and his hostage to his advantage, but obviously doesn't have the experience or the brains to pull it off.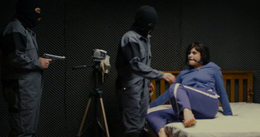 And Arterton, who at this point in her career had only been known for a handful of BBC roles and a brief (but good) turn in Quantum of Solace, shows real range and ferocity as Alice. It's the kind of performance that makes you wonder why she hasn't gotten more interesting roles, given that she's got Hollywood star looks and the acting chops to back them up.
But the real winner here is Eddie Marsan as Vic, which will come as no surprise to anyone familiar with his work. A talented character actor who's lent his skills to a plethora of supporting roles over the years, Marsan is the king of expressing barely repressed, highly pressurized rage, which makes the volatile, suspicious Vic the perfect opportunity for him to shine. Marsan plays Vic like a human pit bull.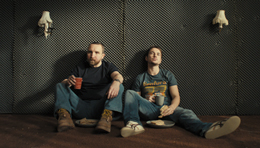 He's a damaged man given to lashing out in bursts of fear and anger at any moment. Vic can go from concerned to driven to hurt to vengeful all in the space of a minute—and the way he chooses to express those feelings sometimes makes it hard to tell the difference. Marsan's performance veers toward over-the-top a few times, as though he's gotten too entrenched in the emotion of the scene to keep himself under control, but he's never, ever boring.
The never-ending tension and high stakes of  The Disappearance of Alice Creed, not to mention its lack of humor, can make it a bit difficult to watch. This is a movie that is utterly serious about its story and characters, so levity isn't exactly one of writer/director J Blakeson's goals. If anything, this may be the reason it wasn't much of a hit over here, since we Americans tend to like our thrillers peppered with pithy dialogue, or at the very least a certain number of explosions.
But The Disappearance of Alice Creed is a movie that absolutely refuses to be mindless entertainment. It's got the kind of writing you'd expect to find in a Hitchcock movie, with performances that measure up on every level. It may not be a movie that leaves you feeling enjoyably diverted, but it certainly will leave you pleasantly surprised, and perhaps even a little shocked.
Abby Olcese is a contributor to Scene-Stealers and also writes at her own blog, No More Popcorn.