There is something to be said about seeing a movie headed up by an actor you know nothing about. I had that sense of discovery when I saw Hard Candy back in 2006. There are only five actors in Hard Candy, and three of them are barely onscreen for five minutes or less. It's essentially a two-person show.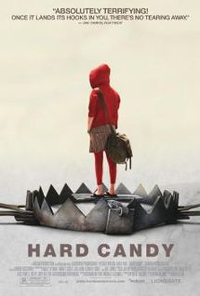 It is a testament then, to director David Slade that he's able to maintain such a huge amount of tension for over 90 minutes with just two actors in basically one location. Hard Candy is one of those intimate low-budget movie concepts that is so brilliant you can't help wishing you had thought of it first. What makes the movie more than a great concept, though, is the sure-handed and stylish direction, some whip-smart dialogue, and a towering performance by a then-young newcomer named Ellen Page.
Slade would go on to direct the underwhelming 30 Days of Night and the third Twilight movie, and Ellen Page was headed straight for her star-making Oscar-nominated role in Juno and a high-profile supporting turn in Inception. Nobody really talks too much about Hard Candy anymore, despite the fact that its an extremely entertaining, button-pushing horror thriller that makes the most of its low budget with color-coordinated set design, stark cinematography, a provocative script, and strong performances.
In a film filled with many extreme and uncomfortable close-ups, we first see the rapid-fire internet chatting between Lensman319 and Thonggirrrrl14. No faces — just the flirtatious instant messages, blown up bigger than life on the movie screen. Clearly this is not the first time the two have chatted, and it is not long before they meet for a rendezvous. Lensman319 turns out to be Jeff (Patrick Wilson), a 32-year old photographer, and his "date" is Hayley (Page), a precocious 14-year old girl.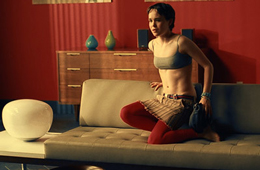 The memorable movie poster for Hard Candy features Hayley in her red hoodie and stockings, a modern-day Little Red Riding Hood, standing in the middle of a giant bear trap. She's more like the wolf in grandma's clothing, though, as she drugs Jeff and ties him to a chair. What follows is a provocative, sometimes ridiculous tug-of-war that all takes place in the claustrophobic environment of Jeff's house.
Hayley is hellbent on punishing Jeff for being a pedophile, and insists that he lured her there. Jeff claims the opposite. The talkative, innocent naif is gone and has been replaced by a talkative, hyper-intelligent professional.
An early scene of a medical handbook sticking out of her book bag will now most certainly come into play, as will the convenient bit of information that her father happens to be a surgeon. If you can't guess where this is going, then either you don't have a sick mind or you've not seen the Takashi Miike thriller Audition.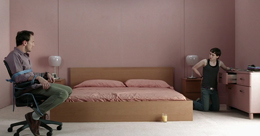 Luckily, screenwriter Brian Nelson is not happy just playing the torture card for an hour. Knowing that even the most frenetic editing style and sleek art direction can't get a stalled movie out of the garage, he has Hayley and Jeff engage in a twisted battle of the sexes, featuring both seriously insightful subject matter and enough vicious put-downs to make Peg and Al Bundy blush.
In the tradition of new torture-horror flicks like Saw, Hard Candy deals in graphic violence, even if much of it is accomplished with grueling sound effects while the gory details take place off screen. Slade uses these scenes not just to shock the audience, but instead to set them up for the next level of suspense. Jagged jump cuts leap the time forward, but this doesn't mean Slade lets us off the hook for any excruciating moments. It's quite the opposite, in fact, as the film's breathlessness depends on it.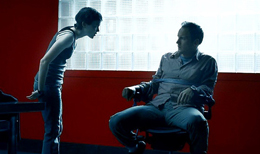 Hayley is more of a symbol than a real girl, as her early references to such non-teenqueen fave celebs as Jean Seberg and Roman Polanski point out. There is something more high-minded and message-oriented going on here than a mere revenge flick. If a pedophilic fantasy occupies one side of a filthy coin, then the other disgusting half is what Hayley intends to do to Jeff and the self-righteousness that she feels as she carries it out.
If torture-porn horror movies can get away with severe violent perversion solely in the name of genre, then why shouldn't Hard Candy take a sleazy anti-pedophilia stand on the same disgusting grounds?
The revelations in the last act somehow make Hayley's rage a little easier to swallow. At least Hard Candy is trying to be about something. There's nothing worse than a hyper-violent stomach turner that has nothing to say (see Gaspar Noé's Irreversible). It is also easier to give in to a movie that tries to rationalize its own trashiness when the journey itself is as riveting as its characters are unbelievable.