A 15-year labor of love finally brought to the screen by director Martin Scorsese quite controversially in 1988, The Last Temptation of Christ looks radiant in a new Blu-ray from The Criterion Collection. Stripping all that way, the movie is an intruiging, passionate picture that tries to bring Christ to life as a real man rather than a figurehead.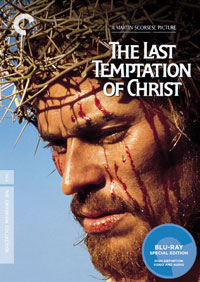 Much was made by high-profile Christian leaders like Jerry Falwell and Pat Robertson upon the movie's release about its supposedly sacrilegious content — even though they hadn't seen it. In fact, they withheld important information about the context of its "objectionable" material to make it seem more salacious.
What The Last Temptation of Christ does that no other movie had done before it is make Jesus seem human and relatable. Rather than portray Christ (Willem Dafoe) as a person with a benevolent perma-smile whose divine light shines 24/7 , Martin Scorsese (raised a Roman Catholic) and co-screenwriter Paul Schrader (raised as a Calvinist) dare to capture his humanity. Christ suffers crippling headaches and surreal visions on his way to divinity and the process of accepting his role (or fate) as the Savior, is fraught with doubt.
One of the most popular and wrongheaded criticisms of The Last Temptation of Christ is the fact that Judas (Harvey Keitel) speaks with a Brooklyn accent. In fact, all the characters in the film speak as people in today's modern society speak, and I would argue that's one of the things that make The Last Temptation of Christ so approachable. I'd also say that Keitel's performance in particular is engaging, as he struggles with his own very personal crisis of faith.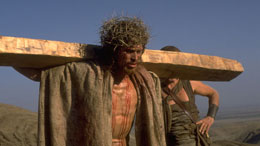 In the enlightening commentary track, Martin Scorsese explains that the modern language and accents were kept so that the anguish and doubt of both Jesus and his apostles could be made more human. Because this is an artistic interpretation of the happenings of the New Testament and of Nikos Kazantzakis' novel of the same name, Scorsese wanted to distance the film as far away from other biblical epics as possible.
Watching the movie today, it absolutely holds up. The only thing that dates it are some of the 80s hairstyles and Peter Gabriel's haunting, yet still-very-80s-sounding score. Michael Ballhaus' stirring cinematography looks impressive on Blu-ray, even if there is a bit of graininess to the picture.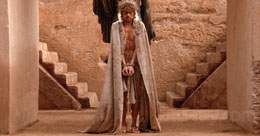 Of course the right-wing fundamentalists didn't have a problem with Mel Gibson's disgusting piece of torture porn, The Passion of the Christ (based on material from 19th-Century anti-Semitic nun Anne Catherine Emmerich), which wanted so badly to be considered the authoritative realistic depiction of Christ's sacrifice that Gibson made all his actors speak Aramaic. Scorsese's movie places itself at the opposite end of that spectrum: A truly personal work of art that actually could have broad appeal, especially if it didn't have the "controversial" albatross hanging around its neck.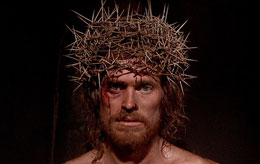 I'd go so far as to say that if you asked the average Christian today what it was about The Last Temptation of Christ that was so offensive, they probably couldn't tell you. And if they were to watch it, they might get deeper insight into the one of their most cherished legends.
The extra bonus features are the same ones that appeared on Criterion's DVD re-issue, and the commentary is the real star here:
– Audio commentary featuring Martin Scorsese, Willem Dafoe, and writers Paul Schrader and Jay Cocks
– Galleries of production stills, research materials, and costume designs
– Location production footage shot by Scorsese
– Interview with composer Peter Gabriel, with a stills gallery of traditional instruments used in the score
For another take, here's the link to Phil Fava's Overlooked Movie column on The Last Temptation of Christ.