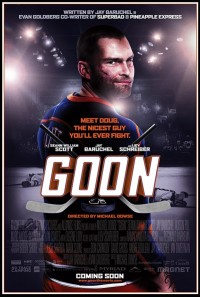 Maybe it's a little early to call Goon overlooked, but considering the movie came out in January and has been available on-demand for even longer, the fact that the average moviegoer hasn't heard of it grants it early access to this column.
The movie, a comedy from writers Evan Goldberg and Jay Baruchel, follows Doug Glatt (Seann William Scott), a lovable dummy with a penchant for hitting people, who finally finds a place in the less-than-glamorous world of minor league hockey. After saving his friend, played by Baruchel, form an enraged hockey player, Doug gains a spot on his Massachusetts minor league team, where he does what he does best — break faces and hurt people.
His skills on the ice as an enforcer get him noticed by a AAA team (coached by Sons of Anarchy's Kim Coates) and it isn't long before he joins a group of drunken, Percocet-abusing losers  in Halifax. Soon, Doug's reputation gets him noticed by Ross "The Boss" Rhea, an aging enforcer set to retire at the end of his season. Rhea (played by Liev Schreiber) decides that before he retires he has to go up against Doug, and the closest thing the movie has to a conflict comes into focus during its last third.
Based on that description, Goon sounds like just about every other rag-tag, underdog sports movie and in a lot of ways it is, but there a handful of elements that separate it from more generic sports movie fare. Foremost is Scott's performance as Doug. It's unfortunate that he continues to be labeled as Stifler from the American Pie franchise because Scott's work as an actor is so much better than that single role. He was terrific in Role Models, another underrated and overlooked comedy and was the only thing other than Justin Timberlake's surreal music video that made Southland Tales worth watching. But he's never been better than he is here.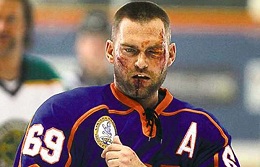 Doug Glatt should not be a likable character. He's a thug. A bruiser. A guy who beats other people to a pulp and who's sole gift is a near superhuman pain tolerance, and yet by the movie's climax — and it's a doozy — it's nearly impossible not to root for him. This is due in part to Goldberg and Baruchel's script, but Scott's performance is also a huge factor. Not every scene works, like when he tries to explain his philosophy to his roommate toward the end, but even the rockiest moments in Goon benefit from Scott's ability to make a guy who punches people for a living sympathetic. His ability to play Doug as dumb, but good-natured, even as he's hurting people is no easy task, even if he makes it look that way.
Beyond that is Scott's foil, Liev Schreiber. Schreiber steals almost every scene he's in during the movie's brisk, 90-minute runtime. He's menacing, slyly funny, especially during an interaction with Scott in a coffee shop, and he's dangerous. Early in the movie we see the offense that got him banned from the NHL — a high-sticking incident in which he threw his stick into the back of an opponent's head after he evaded his initial assault. It's brutal and sets the tone for just how unpredictable his character is, and continues to be, for the rest of the movie.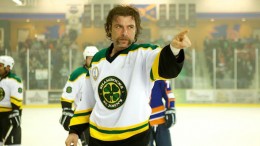 The grittiness of the movie's violence and overall raunchy tone also separates it from the pack of underdog sports movies that don't go far enough in their portrayal of second-string athletics. Like boxing, there's a certain brutal romance in hockey. Beyond the pro players and million-dollar contracts, the guys grinding it out in the minors are doing it because 1.) they love it and 2.) they don't know any better. But it really is a sad existence, traveling from town to town, playing half-sold out college arenas and putting their bodies through a tremendous amount of torture, and yet most players would say there's nowhere they'd rather be than on the ice, scoring a goal or cleaning some guy's clock to the cheers of a couple dozen people.
Goon doesn't shy away from this. The movie focuses more on who Doug sees it, which is an opportunity to do the one thing he does well in service of a group of teammates that have his back. And because of that, it makes the comedy and the few dramatic moments even more compelling because you understand how much it means to him.
The last thing the movie really does an excellent job with is its conclusion, which builds to a brawl between Doug and Ross. I won't spoil the outcome, but I will say that it's simultaneously heartbreaking and satisfying. It doesn't disappoint in any way and is the hockey equivalent of a gunfight at high noon.
Goon is an example of a genre movie done well. It's not going to change the face of filmmaking. But like Bull Durham, Field Of Dreams, Diggstown and Slap Shot, it showcases the unsung and unlikely heroes of a sport by focusing on the heart and inevitability that comes with dedicating your life to a game. It isn't high art, but it's the kind of popcorn movie that you think about randomly for a few weeks after watching it. It's also a hell of a lot of fun.