This review of Film Noir Classics III originally appeared in shorter form on KSNT-NBC, KTKA-ABC, and KTMJ-FOX, Kansas First News.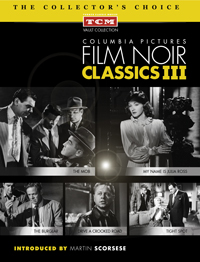 Martin Scorsese is the chair of The Film Foundation, who partnered with Turner Classic Movies to release the new DVD box set of Columbia Pictures Film Noir Classics III.
In a brief video filmed on the set of Hugo, Scorsese introduces The Burglar, the best of the five newly restored crime movies from the 40s and 50s in this set that deserve another look.
An impressive heist-gone-wrong movie with a dark, pulpy center, The Burglar was filmed in 1955 before Jayne Mansfield was a star, but released two years later to capitalize on her newfound fame following The Girl Can't Help It.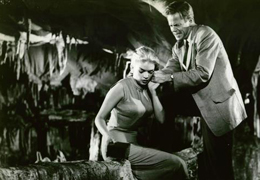 The Burglar is a very stylized film for a B movie. It was adapted from David Goodis' novel by the author himself, and director Paul Wendkos was clearly going for broke in his storytelling. He uses striking camera angles and far-out set pieces to frame what is essentially a psychological story about family loyalty.
There are some strong sexual undertones to lead Dan Duryea and Jayne Mansfield's performances, which is disturbing since their characters were essentially raised as brother and sister. That's part of what makes Goodis' book so memorable, and its nice to see Wendkos keeping that bond in the film. He even uses some odd dream-like imagery for flashbacks in The Burglar. This is an underrated and overlooked gem, and The Burglar being restored and available on DVD is worth it alone.
My Name is Julia Ross, also in the Film Noir Classics III box set, is a 1945 Gothic-style mystery where a woman (Nina Foch) wakes up in an isolated mansion and everyone is telling her she's someone else. It may not fit the typical mode of a film noir (no detectives, femme fatales, not an urban setting), but its certainly shot like one.  My Name Is Julia Ross wastes no time — it's a brisk, thrilling movie (the running time is a whole 65 minutes) and it launched B-movie king Joseph H. Lewis's career.
Another highlight that doesn't quite fit the mold of noir is the 1951 crime thriller The Mob, an expertly-plotted noir starring Broderick Crawford that harkens back to the classic Warner Brothers gangster pictures of the 30s. The Mob is less psychologically disturbing and more straight-up undercover crime drama, but it ratchets up the tension nicely and Crawford is having a hell of a time acting like the tough guy.
Drive a Crooked Road also features a brief introduction in the Film Noir Classics III DVD box by Martin Scorsese where he says this 1954 noir is one of Mickey Rooney's finest performances. I would tend to agree. Rooney is certainly understated and extremely effective as a mechanic who moonlights as a race-car driver, but it still a lonely man known by his friends as "the little guy." A slow-burn script by Blake Edwards makes fine use of excellent supporting players like Dianne Foster and Kevin McCarthy, who have plenty of time to craft three-dimensional characters.
The early sun-lit scenes of coastal beauty are overtaken completely by darkness and shadow as Mickey Rooney goes in on a bank heist out of desperation to please a dame who's way out of his league. Director Richard Quine keeps everything in nice balance and by its downer of an ending, Drive a Crooked Road turns out to be quietly affecting.
Inspired by Senator Estes Kefauver coercing witness Virginia Hill to testify in the prosecution of her boyfriend Bugsy Siegel, Tight Spot is an efficient noir featuring Ginger Rogers cast way against type as a hard-boiled prison convict.
Attorney Edward G. Robinson offers her protection to testify against mobster Lorne Greene, but things get rapidly complicated and the cop who is assigned to watch her every move (Brian Keith) forms an unlikely attachment to her. Rogers' mannerisms can sometimes be a little actorly, but Tight Spot is a solid drama and the chemistry between Ginger Rogers and Brian Keith is palpable.
For the third in a series of Columbia Pictures' noirs, this is a very solid set of movies, even of the lack of extra features is pretty disappointing.
Now that Valentine's Day has come and gone, maybe it's time to replace the sweet romantic comedies of Tuesday with something a little darker and more disturbing. The Film Noir Classics III DVD box ought to just do the trick.