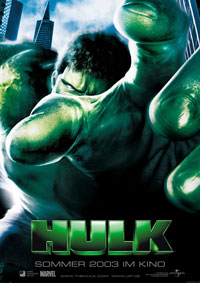 With The Avengers fast approaching, and a third Bruce Banner/Hulk coming down the pike, it only seemed appropriate to shed some light on a particularly misjudged object of scrutiny in the form of the first theatrical outing with the Marvel character from 2003: Ang Lee's Hulk.
We all have to a certain degree two distinct fans of film that co-inhabit our unconscious minds. And when I watch Hulk—perhaps the most contested and unfairly reproached comic book adaptation of all-time—I can feel those two internal critics engaged in bitter conflict.
The one who gets misty-eyed when he hears the wistful violin of "Rhapsody in Blue" underscoring Woody Allen's knowing smile at the end of Manhattan and who went to bat for Brokeback Mountain on multiple occasions in high school is patient and somewhat discerning. He can appreciate measured setup and deliberate pacing. He liked Paris, Texas in 11th grade, for Christ's sake.
The other critic isn't even really a critic. He's the internal Leonard Maltin—celebratory, easygoing. He retreats to Ace Ventura in times of need, relishes Jackie Chan and thinks people were way too hard on Spider-Man 3. It remains to be seen which of them is into musicals. But when I sit down to watch a comic book adaptation, it's often unclear as to which side is operational.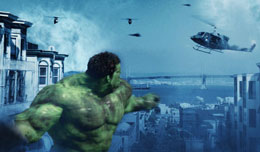 And every time I sit down to revisit Ang Lee's mixed bag from the prior decade, I don't know what to think. The impatient half is off-put by the opening dialogue passages, and is frankly a bit anxious for the movie to get going, while the more open-minded half likes the creativity in the credits sequence and the realistic, low key performances.
And both sides of me are corporeally fascinated with Jennifer Connelly. But even they agree the light comedic banter between her and Eric Bana is mostly unsuccessful; she's just too sultry to be anything other than vulnerable or seductive. Okay, I'll stop.
Yes, it takes a while to get going. A lot of time is spent on setup consisting of, for all intents and purposes, silent visuals establishing character. It must be 25 minutes before Bruce Banner is exposed to the Gamma radiation and another ten or fifteen before it manifests in his first transformation. But from there on out it stays pretty unrelentingly fast-paced and kinetic. Not to mention the film itself is presented as a kind of living comic book, with panels spanning the screen at all times and different angles simultaneously exhibiting single conversations.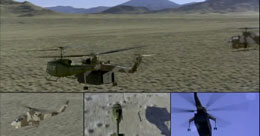 Younger comic book fans I imagine were disappointed with the film's villains, its moodiness and introspection, and wanted more direct confrontation with a major antagonist from the literature. But let's be serious—when is that shit EVER completely satisfying, save for the best of the best of comic book films (The Dark Knight and…well, you get my point…)? People may not necessarily champion that piece of shit third X-Men movie, but no one could argue it was "overlooked."
I mean, can we just tackle that one for a minute? You give Colossus a costarring role in the film and finally bring out the Juggernaut and what do you do? To start, you make Juggernaut British for no reason other than the thick Cockney accent (I can't really remember, might be something equally annoying) serves as a cheap joke for American audiences. But Juggernaut is not British. You could make the argument that because Patrick Stewart's Charles Xavier is British, so should his step-brother be. But they're not fucking brothers in the movie. And you know what? Charles Xavier is from New York!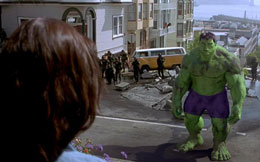 What else do you do? Colossus, Juggernaut. Same film, same battlefield. Do they ever fight?! No, of course not. Why would they, right? It's only as classic a match-up as Hulk and the Thing or Wolverine and Sabertooth, totally feasible with the given resources. But no, you have Juggernaut chase Juno through a building and finally meet his defeat at the hands of an anti-mutant mutant by knocking himself unconscious hitting his head against a wall (Juggernaut is not a mutant). And you have Colossus do the "fastball special"! Oh wow. That's great. Let's not have Colossus actually fight anyone himself, but throw another character into battle. 'Cause those movies are really only about Wolverine anyway.
So look, no one's saying Ang Lee is the ideal director for Western-sensibility-laden big budget summer blockbusters, or that Hulk is the best comic book adaptation there is. But what works works exceptionally well, and it's dramatically compelling. Like it or not, you are emotionally invested when the going gets tough for these characters.
And the action element is completely satisfying. Could his foes have been more interesting and the stakes have been higher? Yes. But the CG rendering of the actual Hulk is really impressive, even nine years on. Way better than that paint-by-numbers Louis Letterier version from '08 that everyone seems to clamor for, with Hulk looking more cartoonish than ever with his Tom Cruise haircut. Give me a break.
And if we really want to defend this film purely on the basis of comparison, let's take a really good look at the sequel/remake with Ed Norton and Liv Tyler. In Ang Lee's version, the character glides through the air for miles and miles with only the momentum of a leap behind him. People squawked about that for ages. But you know what? That's how the Incredible Hulk travels. He's taking explosives to the chest while running full speed through the desert and chucking tanks across the sand. Wherever they went wrong with his adversaries, they redeemed themselves with the presentation of that character.
Contrarily, what happens in the run-of-the-mill Incredible Hulk from 2008 (election year, perhaps we were distracted)? We get a transformation way earlier, see him beat people up, lose all suspense and end up liking Ed Norton 'cause he's likable and not quite seeing what people see in Liv Tyler. It's rote, all totally expected, and there's nothing the least bit interesting that happens. On some level I enjoy the action, I guess, but it's just so standard. It just sort of washes over me, scope-less.
Going over all this, and having mentioned it earlier, I'm now having the discussion aloud with myself about Spider-Man 3. I don't want to drag things out any more, but I'll say this: The film is overstuffed and owed its villains more development. But it's not un-enjoyable. Can the same be said of X-Men: The Last Stand? I think not. Are there things to like in The Incredible Hulk? A few. It's fun to see comic characters fighting on the big screen. That's about it. The imagination stops right there.
Ang Lee's third act sees a 10-minute fight sequence between the Hulk and the military spanning a good chunk of the northwestern United States, and closes with a fight between father and son, the former of which having just become a lightning monster. "Yeah, but he got to fight Abomination in the sequel!" Yeah, right. Hulk's greatest physical adversary apart from Hall of Fame, intra-universe exchange-program confrontations, and he defeats him by choking him out with a chain. What is this, fucking Road House?
If you have any conception of how strong the Hulk is supposed to be, seeing that should be a massive disappointment (let me put it this way: Hulk fought The Sentry to a standstill, indicating at the very least he has the power of a million exploding suns).
Ang Lee's Hulk may wax a little cerebral and dwell on the more funereal components of its broader skeletal structure, but it's about a thousand times more interesting and creative than its alleged superior in The Incredible Hulk from five years later. The CGI works amazingly well, the payoff is surprisingly satisfying, and the whole enterprise exudes extreme care from conception to execution.
Here's a link to Eric Melin's original review of Hulk, back in 2003.