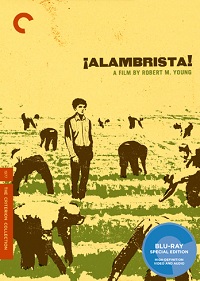 Rarely does a movie come along that that tackles a polarizing issue in a seemingly unobtrusive way.
What is so surprising about Robert M. Young's 1977 film ¡Alambrista! (The Illegal) is that it follows the journey of a Mexican illegal immigrant with as little sentimentalization as possible, and proves as potent and relevant today as it was 35 years ago.
Now that The Criterion Collection has given a full restoration to this overlooked movie, more people can appreciate ¡Alambrista! and understand a little-seen side of a hot-button political issue with more depth and clarity — and a focus on the experience itself, not the talking points.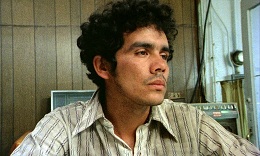 After making the 1973 short documentary Children of the Fields about a family of migrant farmworkers (which is included on the newly issued Criterion DVD and Blu-ray), writer/director/cinematographer Young decided to pursue a similar subject matter for his first foray into feature filmmaking. His documentary background gave Young the experience needed to lend a sense of realism to ¡Alambrista!, which he wrote in six weeks.
Roberto Ramírez (Domingo Ambriz in a performance that resonates with authenticity) plays a husband who leaves Mexico after the birth of his child in hopes of making money in America to bring back home and support his family. Young employs a hand-held camera and low angles, getting up close to Roberto so that the audience feels as though his experience is their own.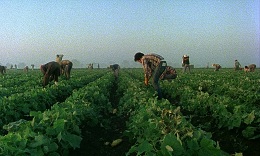 Inherently, this takes a certain amount of objectivity away, but Young's film is clearly a humanistic treatment of the issue. The film must be considered a grandchild of the Italian neorealism movement, even if much if its 16mm cinematography is strikingly beautiful in color.
The story soon becomes one of survival, as he endures and escapes one random set of dire circumstances after another without feeling contrived or stopping for cheap sentimental tricks. Roberto even makes a certain selfish choice, but at the time, after what he's been through, who could blame him?
Roberto speaks no English and there are big stretches of the movie where he doesn't speak at all. This causes us to further identify with him and it makes the moments of chaos and confusion come alive. ¡Alambrista! is an intimate film, mixing in non-actors in actors in situations that rarely feel scripted.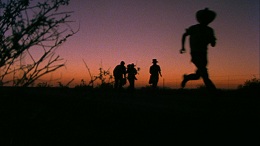 The most invasive scenes come when Young uses rock music to punctuate montages or transitions, as well as a restored moment where one of Roberto's traveling companions (Trinidad Silva) puts both their lives in danger in an act of stupid desperation.
Linda Gillin is particularly low-key and effective as a diner waitress that helps Roberto out, and Edward James Olmos and Ned Beatty each make cameo appearances that are mildly distracting now, due mostly to them being recognizable actors.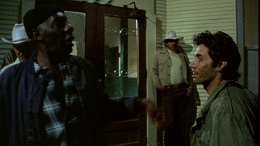 The movie was broadcast by PBS in 1977, and in 1978, ¡Alambrista! won the inaugural Camera d'Or Award (for Best First Feature Film) at the Cannes Film Festival, but it never received a theatrical release in the U.S.  In 2004, Young re-edited the film for a multimedia educational project, and that is the version presented on this Criterion edition.
Besides the Children of the Fields short, the Criterion Blu-ray contains an interview with Olmos, and introduction from Young, and feature-length commentary from Young and coproducer Michael Hausman.