Note: A mutual friend of Eric's and mine asked us on Twitter to convince a buddy of hers to watch Freaks and Geeks. As Eric noted, 140 characters doesn't do the series justice, so I sent said Freaks and Geeks holdout this e-mail. It has been edited because of my tendency to make embarrassing typos.
Dear Angela:
As the proud owner of a box set of the entire series (1999-2000), Freaks and Geeks delights me in ways that few television shows have ever managed to do. It's a smart look at youngsters who often make stupid choices. In one season, the show's creator Paul Feig takes viewers through a remarkably complicated story that grows and changes with each episode. Thankfully, with a lone season, you won't have to watch years of installments to see it all.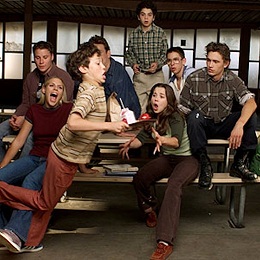 As with Mad Men or Downton Abbey, there is something to pulls viewers back from episode to episode. Lindsay Weir (Linda Cardellini) and her little brother Sam (John Francis Daley) aren't your typical sitcom high school misfits.
They and the other kids in their Detroit high school develop as the series does. Characters we liked in the beginning shock us by acting badly, and characters we underestimated prove themselves far more worthy that we initially imagined them to be. Feig feels a kinship with these young characters, and even the bullies occasionally seem human.
For example, Sam Weir actually has a few dates with the beautiful girl he's only seen from afar. Most storylines would end there. With Freaks and Geeks, however, the two gradually discover that being in an actual relationship can be just as stressful and heartbreaking as rejection and that attraction and compatibility are two separate entities.
There are plenty of laughs in the series, but they come from different places than they do in most TV comedies. The laugh track has been eliminated, and you won't miss it because you'll be giggling just fine on your own.
The characters have the sort of fragmented conversations people have in real life, although there aren't the grunts and groans and "ums" you'll hear in a Twilight movie.
I once had the pleasure of meeting Mr. Feig, and he said that some of the best laugh lines can be an "um" or a simply glance of disbelief. Freaks and Geeks consistently proves his point. Many of the disposable sitcoms with their telegraphed punchlines aren't half as funny as what Feig and his partner in crime Judd Apatow (who produced and wrote and directed some episodes) deliver here.
As someone who felt sentenced to high school, the series reminds me of why I hated it and how my decision making wasn't that great back then. I won't say that you'll see yourself in Freaks and Geeks because everyone's high school experience is different. Instead, I'll say the world in the series is consistently dynamic and believable as 1980 Detroit.
While the series itself is both finely crafted art and rousing entertainment, it's also a fascinating glimpse at some budding talent who later hit the big time, proving that network suits are as shortsighted as they are free of the ravages of taste or intelligence.
Not convinced? Here's Episode 1 in its entirety: