For 1 Year, 100 Movies, contributor/filmmaker Trey Hock is watching all of AFI's 100 Years, 100 Movies list (compiled in 2007) in one year. His reactions to each film are recorded here twice a week until the year (and list) is up!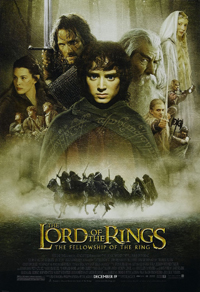 I have little doubt that #50 on AFI's list of the best American movies will cause a stir. It may not start any controversy for the fact that it's on the list, but that it has secured such an enviable position. "The Lord of the Rings: The Fellowship of the Ring" kicks off our top 50, and is the most contemporary film on AFI's 2007 revision of its list.
It is odd to think that Peter Jackson's epic film adaptation of the first book in J.R.R. Tolkien's classic trilogy is now ten years old. This slight distance does offer a touch of critical perspective, and allows the viewer to better discern between dazzle and substance.
I should confess that as I started this project and scanned through the films on AFI's 100 Years, 100 Movies "Fellowship" made me skeptical. Not because I didn't thoroughly enjoy it in the theatre, I did. I even own a copy of the extended edition, but it felt less road-tested than a lot of the other films. I gave it a fair shake, re-watched it, and was surprised by the result.
"Fellowship" is a film epic. So I think a small discussion of what film epics offer is in order. Think in terms of "Ben Hur" or "Spartacus" from earlier in the list, for classic film epics. My definition of a film epic is: a film that is large in scale and scope, that has heroic characters performing all, but impossible deeds, and offers vague, yet strangely applicable life lessons for the viewers. Often these films will incorporate a range of special effects to achieve their visual goals, and most have a ton of back-story to get through, which usually requires a prologue.
Since it is dealing with a recently created mythology, "Fellowship" has two prologues. Here is the second one, concerning Hobbits.
If handled incorrectly, these bits of explication could feel weighty and burdensome, but screenwriters Fran Walsh, Phillipa Boyens, and writer/director Peter Jackson, streamline the information and motivate it's telling visually with the coming of Bilbo's (Ian Holm) birthday. This gives the viewers the information to start the story, but in a light and refreshing way.
One of the difficulties with adapting this book to the screen is the need to make the ring itself a character. The Ring has powers and a will of its own. It can bend other characters and make them act on its desires. In this next scene, the Ring is revealed as the one to rule them all.
The Ring is given a voice and close-ups of its own. When Frodo (Elijah Wood) and Gandalf (Ian McKellan) sit at the table with the Ring, the scene is shot as though three characters are having a discussion. All of these moments give weight and personality to the Ring.
With the revelation of the Ring, Frodo, accompanied by Sam (Sean Astin), Pippin (Billy Boyd), and Merry (Dominic Monaghan), sets out to take the Ring to Rivendell, and Elrond (Hugo Weaving), an elder elf who will help decide what to do with the Ring.
In Rivendell, Frodo realizes that his journey is about to become more complicated. (Sound starts at 4 seconds.)
Up to now "Fellowship" has been big in scale and scope. Its cast continues to balloon throughout the film and the location shots are expansive, but with this scene the film establishes our heroes and their willingness to take on impossible tasks. "Fellowship" is flexing its epic muscles.
Frodo doesn't embark on his quest alone. Eight others join him, including Aragorn (Viggo Mortensen), the ranger and hidden King of Gondor; Legolas (Orlando Bloom), an elven warrior; Gimli (John Rhys-Davies), a proud, axe-wielding dwarf; and Boromir (Sean Bean), the son of the steward of Gondor.
Their journey quickly encounters difficulty, as they try to cross a snowy mountain pass on the path to Mordor. (Sound starts at 4 seconds.)
Here we have our heroes again facing impossible odds and incredible tasks. We have wizards battling with their booming voices, and warriors and travelers fighting the elements. This film just keeps getting bigger and bigger.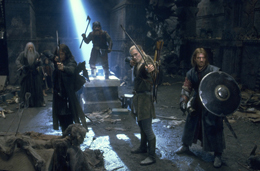 Since this scene uses models, green screen, and both practical and computer generated effects, this is also a great moment to discuss the use of special effects in "Fellowship." A lesser film or filmmaker in 2001 may have employed only computer-generated images for the fantasy landscapes, the creatures, and moments of great peril and action. All you need to do is watch "Titanic" for an example of a film that used almost exclusively contemporary special effects for its day.
Instead "Fellowship" employs everything from the most advanced effects to the simplest camera tricks, and uses each in its turn for what is most appropriate. Instead of shooting each character separately on a green screen and then compositing them together to give the impression of scale, from hobbit to wizard, Jackson uses one of the first ever special effects, forced perspective. If someone's supposed to be taller than another, just bring the "taller" person closer to the camera. By putting the two characters in the same location, they get to actually interact and there is an organic or real quality to the performances. Also by employing models, green screen, and practical effects, it helps to sell the CG effects, when they are used.
Sure there are moments when each special effect becomes apparent, but for the most part this has the same charm that an older film's "inadequacies" would have. The seams and stitching that start to show only reinforces a viewer's appreciation of the film. I do think this wears thin with the entirely CG Gollum (Andy Serkis) in later films, but as far as "Fellowship" is concerned, I'm still largely convinced.
Getting back to the story, the group of travelers is forced underground, through the tunnels of Moria.
And here we have the final piece of the epic puzzle, the vague, yet somehow applicable life lesson. Gandalf gives us two. Don't judge people too quickly or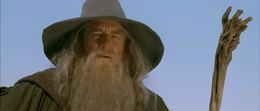 harshly, and we must each decide what to do with the time we are given. These are big rules given in a compassionate and grandfatherly way to comfort our young hobbit hero.
The themes dominate the film and help give a larger meaning to what could otherwise be perceived as a frivolous story of fanciful creatures. The wish for a better or easier life is a human desire, and the rush to quick judgment is a very human shortcoming. Gandalf may be a wizard and Frodo a hobbit, but they are telling a human's story of frailty and courage. This is probably the biggest reason that "Fellowship" will most likely be visited and revisited for years to come.
The group struggles on and in the depths of Moria, Gandalf, the guide, falls. The fellowship deals with the grief over their lost leader.
It is easy to show the fight with the fiery Balrog, and proclaim "Awesome!" but the moment that follows is a touching lament that calls for real acting from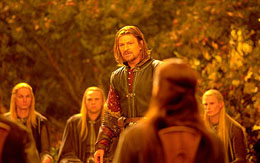 our sizable ensemble cast. Aragorn's face after Gandalf falls, and Legolas, Sam, and Frodo all cast into despair outside of the caves, each offers a stirring picture of a moment of sadness and loss. This requires some legitimate acting.
It is easy to let the spectacle of "Fellowship" interfere with our enjoyment of solid acting performances, but those performances give weight to the story in a way that no glossy effect or spectacle could.
"Fellowship" is only the first in a trilogy of films. In this case it must establish a hero in Frodo, but also look towards the penultimate hero of our story, Aragorn.
Aragorn feels the temptation of the ring, but unlike Boromir, Aragorn passes the test and lets Frodo go into the wilds of Mordor alone. It also leads into a pretty fun battle sequence. I once had a professor who, in answer to the question of what is a hero, said a hero is the one who lives until the end. Here Aragorn, facing a cadre of orcs, fights them off in slow motion brilliance, and the ending of the film leaves us all wanting the next installment.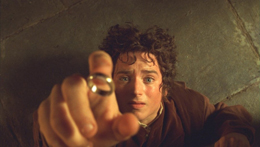 So in summation, should "The Fellowship of the Ring" be on the list? I would argue that it is a new film with an old soul that harkens back to the days of enormous epic movies, and should be on the list. I may not have made such a bold statement had I not had the ridiculous historical perspective that my 1 Year, 100 Movies project has given me, but this film feels like it fits in this particular canon pretty well.
Should it be #50? That's a harder question to answer. The unbelievable hugeness of taking on so beloved a series of books and adapting them into a set of films that are really solid is stunning. Pair that with the use of good storytelling as well as new and old film tricks and techniques, and I think that an argument can be made for a top 50 spot for this relative newcomer.
Up next the oldest film on the list, #49 "Intolerance" (1916)
1 Year, 100 Movies #51 West Side Story (1961)
1 Year, 100 Movies #52 Taxi Driver (1976)
1 Year, 100 Movies #53 The Deer Hunter (1978)
1 Year, 100 Movies #54 M*A*S*H (1970)
1 Year, 100 Movies #55 North by Northwest (1959)
1 Year, 100 Movies #56 Jaws (1975)
1 Year, 100 Movies #57 Rocky (1976)
1 Year, 100 Movies #58 The Gold Rush (1925)
1 Year, 100 Movies #59 Nashville (1975)
For links to #60 – 69, click on 1 Year, 100 Movies #60 Duck Soup (1933)
For links to #70 – 79, click on 1 Year, 100 Movies #70 A Clockwork Orange (1971)
For links to #80 – 89, click on 1 Year, 100 Movies #80 The Apartment (1960)
For links to #90 – 100, click on 1 Year, 100 Movies #90 Swing Time (1936)