For 1 Year, 100 Movies, contributor/filmmaker Trey Hock is watching all of AFI's 100 Years, 100 Movies list (compiled in 2007) in one year. His reactions to each film are recorded here twice a week until the year (and list) is up!
I am sorry I've been away from my column 1 Year, 100 Movies for a while. As I near the final few films, there seem to be more interruptions than ever, but I'll offer no excuses. Instead I will pledge to do my best and get the next four films up in a timelier manner than film #5.
At #5 we meet the final musical on AFI's list. What makes "Singin' in the Rain" worthy of such an honored distinction?
It is placed right in the middle of the top ten and is 5 spots ahead of "The Wizard of Oz" and 29 spots above "Snow White," which I consider partial musicals, or movies that contain music but don't rely on the songs to further the story. "Singin' in the Rain" is a stunning 35 spots ahead of the list's last traditional musical "The Sound of Music," which only just slipped in to the top 40.
So what is it about "Singin' in the Rain" that makes it more compelling and more important than "West Side Story" or "Cabaret?" Why is this film, which was met with mediocre reception during its initial release, worthy of an additional five spots, moving it from #10 on the 1998 list to its current position on the revised list?
"Singin' in the Rain" may not do any single unique thing. It is a film about filmmaking, or more specifically a musical about the making of musicals. "Sullivan's Travels" was a movie about movies, and it came eleven years earlier.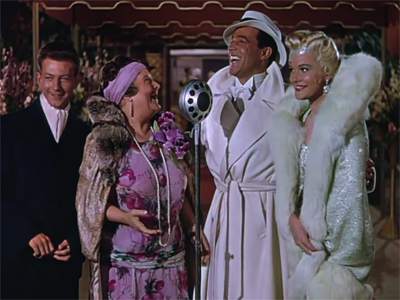 Don, Lina and Cosmo at the Movie Premiere
"Singin' in the Rain" integrates the songs into the body of the story by focusing on characters that are entertainers. We've seen this all the way back at #90 "Swing Time" and more recently in "Cabaret."
Director Stanley Donen helmed his first directorial feature, "On the Town," just three years prior to making "Singin' in the Rain." It too was a collaboration with co-director Gene Kelly, who was responsible for the choreography and played the male lead in both films.
Since both men had already worked together and had an established rapport, they could go out on a limb. Donen and Kelly could make a musical comedy that explored new territory. It would be a musical comedy about making musical comedies set in the late 1920s during the film industry's transition to sync sound.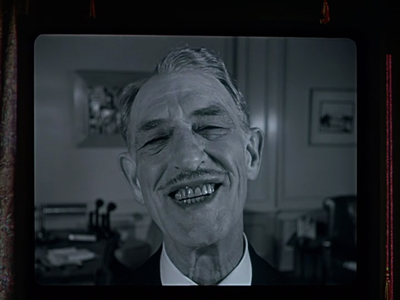 Sound and Picture Together
Again we've seen this transition to talkies addressed in a previous film, "Sunset Boulevard," two years before "Singin' in the Rain" was released, but hopefully by now you can see where this long catalog of the not unique aspects of "Singin' in the Rain" gets us.
It gets us to a single film that encapsulates a huge spectrum of subject matter tackled by a long list of other films that came before it, and it does so in less than two hours and with some of the most expansive and ambitious song and dance routines ever filmed.
Kelly plays Don Lockwood, a star of the silent era. He, along with costar, Lina Lamont (Jean Hagen), and fellow vaudevillian, Cosmo Brown (Donald O'Connor), has been tearing up the silver screen for years, but with the release of "The Jazz Singer" studios now scramble to make sound pictures.
This wouldn't be a problem, but Lina has the perfect voice for silent film. Tinny and grating, Lina's voice and career will never make it through the transition to sync dialogue.
Luckily Don meets Kathy Selden (Debbie Reynolds), a young struggling actress who works with an all girls musical group that sings and dances at parties.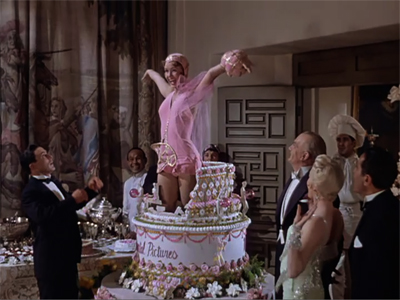 Kathy Jumps out of the Cake
As quickly as she appeared, Kathy is gone. Though Don searches, this plucky newcomer is nowhere to be found.
Kathy is the least of Don's problems. He and Cosmo must turn their latest picture, "The Dueling Cavalier," a silent melodrama, into a sound picture, and there is the problem of Lina, whom Cosmo refers to as the triple threat. She can't act, she can't sing and she can't dance.
Don frets, but Cosmo reminds him that when all else fails make 'em laugh.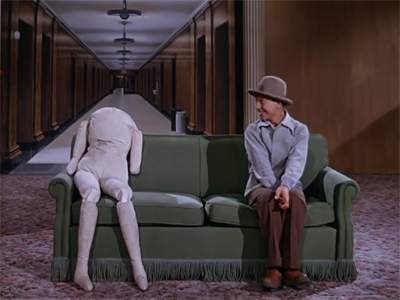 Cosmo Makes 'Em Laugh
O'Conner's performance during "Make 'Em Laugh" is silly, overt, and wonderful. It is amazing the lengths that O'Connor, himself a former vaudevillian from a family of performers, was willing to go to for what could otherwise be seen as a throwaway number.
This song and accompanying routine doesn't further the story, and doesn't feature the star. It is here to cheer Don up, but the acrobatic and comedic feats that O'Connor achieves within this silly little routine make it one of the more memorable in a film filled with memorable musical numbers.
Don stumbles across Kathy performing as background talent in an adjacent soundstage. Though the tabloids continue to write about the entirely fictional love affair between Lina and Don, and the studio encourages the story because it makes for sensational publicity, Don falls for Kathy.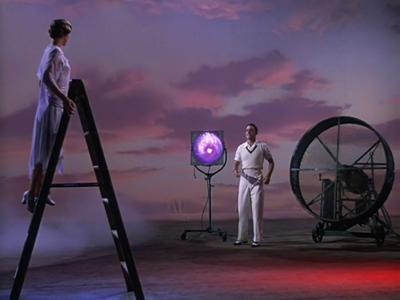 Don and Kathy on the Soundstage
Even during a scene where Don courts Kathy, he does so on a soundstage. The scaffolding that lies beneath the film itself shows through. We are watching a movie that continues to reveal itself as a movie, and movie stars that play movie stars.
As he prepares for the leap to sound, Don visits a speech therapist to help with his diction.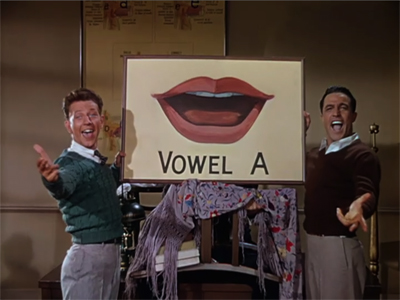 Don and Cosmo with the Speech Therapist
Cosmo and Don both end up having fun at the expense of the diction coach, and here we watch as each layer of characters and collaborators from Cosmo and Don, actors Kelly and O'Connor, to co-directors Kelly and Donen all create a fantastic musical number that pokes fun at the movie biz, while doing what movies do best – entertaining and delighting the viewer.
The production of "The Dueling Cavalier" commences, and as expected Lina is a disaster.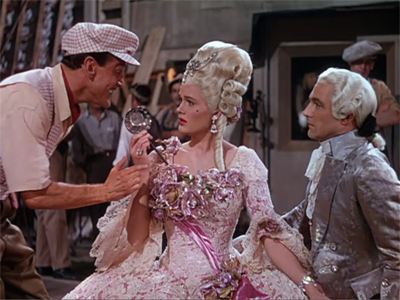 The Director Explains the Microphone
When a test audience screens the picture, the crowd walks out incensed, vowing to never watch another Lockwood and Lamont movie.
With a national release just weeks away, Cosmo, Don and Kathy stay up worrying about what can be done. As night becomes morning, these three performers resort to what they know best, performing, and in doing so, come up with a plan to turn "The Dueling Cavalier" into a musical comedy, "The Dancing Cavalier."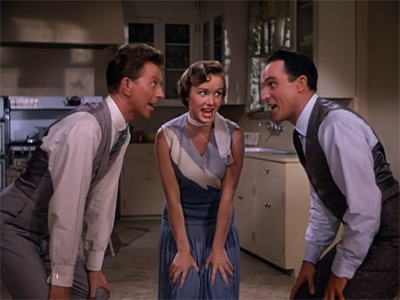 Kathy, Don and Cosmo Sing Good Mornin'
"Good Mornin'" blurs the line between what is performance and "not real," and what is "real" within the context of the movie. All three of our main characters break into song with full orchestration. This would normally be seen as a visual and auditory metaphor, but upon the conclusion of the musical number, instead of just acting like they had a moment of dialogue, Cosmo references the song they just sung to come up with a solution for the Lina-problem.
Like architecture that showcases I-beams and other structural elements, Donen is showcasing the structural elements of filmmaking and storytelling to create something wholly unprecedented. It is as if a magician were telling you his secrets as part of the act.
Cosmo proposes that Kathy sing and speak for Lina. With clever dialogue recording and lip-syncing, no one should ever know the difference.
After their all-nighter, and with a plan, but little else, Don returns home in the pouring rain, and gives us perhaps the most iconic musical number ever set to film.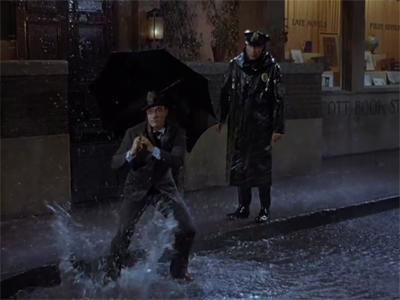 Don Gets Caught Singin' in the Rain
The titular song gets at the subtle melancholy that floats just below the surface of "Singin' in the Rain" without ever becoming the dominant emotion. The entire process of filmmaking is changing around him and yet Don can't help but anticipate good things to come. Hopeful exuberance in the face of systemic control and change, it is no wonder that Stanley Kubrick chose this song to make a much darker statement 20 years later.
After the rewrites are in place for "The Dancing Cavalier," production begins in earnest. Lina gives the physical performance, but all the while it is Kathy's voice that provides the soundtrack.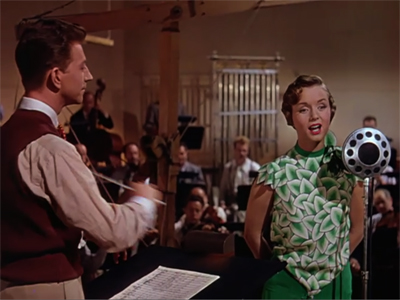 Kathy Sings Lina's Part
"The Dancing Cavalier" comes together. With the premiere looming ever closer, only one big musical number remains. Again Donen and Kelly use the process of movie making to showcase the "Broadway Melody Ballet." As Don pitches the idea to the producer, the onscreen images transition to the musical number itself. Within the context of "Singin' in the Rain" we're watching Don's idea, not the finished production.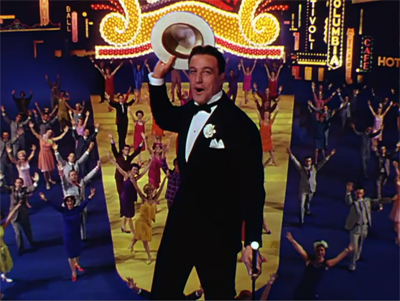 That's the Broadway Melody
The "Broadway Melody Ballet" is an enormous theatrical undertaking. It's huge, expansive, mixes various forms of classical, modern and jazz dance, and lasts for 13 minutes. This pure musical number takes up over ten percent of the running time for "Singin' in the Rain," and does so without furthering a character arc, the story, or increasing emotional context or dramatic tension.
It is obvious that Donen and Kelly wanted a technically adventurous blowout musical extravaganza. This heavily produced showpiece exists to entertain alone, and Kelly and Donen get the "Broadway Melody Ballet" into "Singin in the Rain" by having Don pitch it to his producer.
The last of the reshoots are in the can, edited, and ready to screen. The night of the premiere descends upon Lina, Don, Kathy and Cosmo.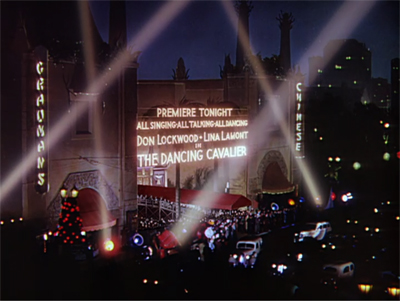 The Dancing Cavalier's Premiere
The opening is a success and "The Dancing Cavalier" looks to be a smash hit. Lina wants to keep Kathy under her thumb as nothing more than the voice of Lina Lamont, but when the curtain call comes Lina's arrogance gets the best of her.
The crowd calls for a song, Lina agrees. With Kathy staged behind the curtain and Lina lip-syncing to a dead microphone, Don and Cosmo raise the curtain and reveal the ruse.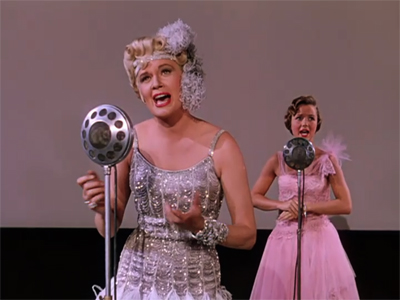 Kathy Sings for Lina
Kathy gets her glory, Lina's a laughing stock, and it's time to make the next picture.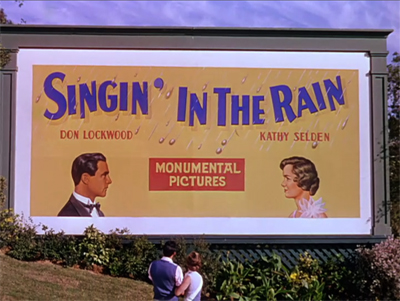 The End
"Singin' in the Rain" is a deceptive masterpiece. It feels light and easy. It is thoroughly watchable with songs that are the ear-wormiest of earworms. Don't let this charming film fool you though. It is surprisingly multilayered, and the more you peel back those layers the more and more complex it becomes.
So why is "Singin' in the Rain" the greatest musical ever made? Because it gives you all of the surface content that musical lovers expect, satisfying dance routines, great songs, funny side characters, and a little love affair. It also makes an interesting statement on a transition within a young popular artistic medium. Finally it not only doesn't hide that it is a movie, but revels in it. It may be a tad elitist to compare "Singin' in the Rain" to a Pollock painting, but the embracing of a particular medium so completely feels the same.
Whether you want to tap your foot and sing along, or you want something heady and challenging, just go watch "Singin' in the Rain." This one really may have it all.
Up next #4 Raging Bull (1980)
1 Year, 100 Movies #6 Gone with the Wind (1939)
1 Year, 100 Movies #7 Lawrence of Arabia (1962)
1 Year, 100 Movies #8 Schindler's List (1993)
1 Year, 100 Movies #9 Vertigo (1958)
For links to #10-19, click on 1 Year, 100 Movies #10 The Wizard of Oz (1939)
For links to #20-29, click on 1 Year, 100 Movies #20 It's a Wonderful Life (1946)
For links to #30-39, click on 1 Year, 100 Movies #30 Apocalypse Now (1979)
For links to #40-49, click on 1 Year, 100 Movies #40 The Sound of Music (1965)
For links to #50-59, click on 1 Year, 100 Movies #50 The Lord of the Rings: Fellowship of the Ring (2001)
For links to #60 – 69, click on 1 Year, 100 Movies #60 Duck Soup (1933)
For links to #70 – 79, click on 1 Year, 100 Movies #70 A Clockwork Orange (1971)
For links to #80 – 89, click on 1 Year, 100 Movies #80 The Apartment (1960)
For links to #90 – 100, click on 1 Year, 100 Movies #90 Swing Time (1936)