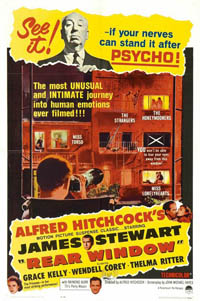 For 1 Year, 100 Movies, contributor/filmmaker Trey Hock is watching all of AFI's 100 Years, 100 Movies list (compiled in 2007) in one year. His reactions to each film are recorded here twice a week until the year (and list) is up!
This is the second time that we encounter Alfred Hitchcock on AFI's list. He made his entrance with #55 "North by Northwest" his provocative, funny, thriller about wrong man, Roger Thornhill.
In "North by Northwest" Hitchcock chased his protagonist to various locations in the Northeast and Upper Midwest. But in "Rear Window" Hitchcock isolates his hero in a single location, one New York apartment. That location is no less impressive, since the entire apartment quad was built on the Paramount back lot.
Hitchcock's affection for powerful blondes and powerless silver foxes comes through once again in "Rear Window." Here Hitchcock gives us L.B. Jeffries or "Jeff" (James Stewart), a successful photographer and world traveler, but during a recent assignment Jeff broke his leg. Now he is stuck in a small apartment with nothing to do, but watch the neighbors.
Jeff is used to being in control and on the move, but now he just watches other people in their intimate, private moments. Hitchcock openly constructs parallels between Jeff and the moviegoer. Jeff sits immobile in his chair and watches various characters through the frame of each apartment's windows. We watch Jeff through the frame of the motion picture projected on screen. We are all voyeurs.
Jeff's obsession with his neighbors leads to his discovery of a possible crime. His neighbor across the quad, salesman Lars Thorwald (Raymond Burr), begins acting suspicious.
After exiting with his metal case throughout the night, the next morning Thorwald's invalid wife is missing. Jeff suspects that the wife has been murdered and tells his fiancé, Lisa (Grace Kelly). (Sound starts at 4 seconds.)
Again in this scene, we see how powerless Jeff is. Lisa stands over him, turns him from the window, and chides him for being foolish and intrusive. Jeff can only plead with her, and try to convince her to see it from his perspective. He doesn't convince her, but when inadvertently she participates in his voyeurism, she is won over to his argument. When she herself watches Thorwald and sees him tying up an old trunk with heavy rope, she suspects Jeff may be right.
Jeff phones up an old Army buddy, who works as a detective. Tom (Wendell Corey) looks into the case, but doesn't find anything compelling or worrisome. Jeff continues to collect evidence and calls Tom back to present his case again, this time with Lisa's help. (Sound starts at 3 seconds.)
Tom offers the viewers all of the possible counterarguments to the growing visual evidence that Jeff and Lisa (and we the viewers) are building. Hitchcock wants to add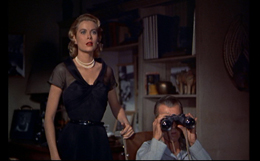 weight to Jeff's argument so he gives it healthy opposition. He also wants to blur the lines between reliable and unreliable concerning our narrator. In the phone conversation earlier, Jeff stated he was becoming a bit stir crazy, now with Tom's raised eyebrow in regards to Lisa's overnight case, Jeff's own private life garners a bit of scrutiny.
This also works to underline the illicit nature of peeking into others private affairs. Here we have Jeff making accusations based on information that he should not have, had he stayed out of others' business. Now when Tom intrudes into his private life, Jeff becomes defensive and warns against any further intrusion with a, "Careful, Tom."
Jeff, Lisa and Stella (Thelma Ritter), Jeff's nurse, continue to spy on Mr. Thorwald, in spite of Tom's argument against the murder. Their tactics become more direct, as they suspect that Thorwald intends to flee.
Stella's vulgar musings on Thorwald's methods, mixed with the more clinical descriptions offered by both Jeff and Lisa gives the viewer a clear picture of an event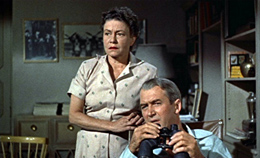 that was never shown on screen. Hitchcock is able to plant the seeds of this gruesome murder in our imaginations, where they take hold, and he does this without ever showing us a body or single drop of blood.
The overhead shot of the note is particularly compelling since most other shots have been at Jeff's eye level. It is as if Hitchcock himself were writing his own frantic and excited scrawl. This shot visually underlines the emotions of the moment, and from this angle we, like Lisa, Jeff and Stella, participate in the drafting of the letter.
The letter is delivered and a phone call is made to lure Thorwald away from his apartment. When Lisa and Stella fail to find anything under the flower bushes, Lisa decides to go a step further in her investigation of Thorwald.
From the moment Lisa enters the apartment, we sense the danger to come, but it's not until Thorwald returns that Hitchcock owns us. At this point his cutting from an eye-level close-up of Jeff to a shot from Jeff's point of view puts us in the same position as our protagonist. We are just as helpless as he is, and when Lisa cries out, we can no more help her than Jeff can. This impotence boils within us. Few scenes are as effective at eliciting such powerful and tense emotions.
But the final standoff is yet to come. Thorwald maneuvers through the various traps that have been laid for him and decides to take matters into his own hands. (Sound starts at 5 seconds.)
This scene epitomizes Hitchcock's definition of suspense as it's distinguished from surprise. I'll briefly paraphrase the definition. If two people are conversing in a café and a bomb goes off, that is surprise. If however two people are conversing in a café and we see that there is a bomb under their table, then every breath of their conversation from the moment we first see the bomb until its explosion is suspense. This anticipation makes even the mundane worthy of some nail biting and yet so few thrillers employ it effectively.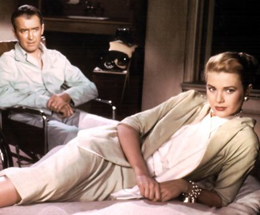 We know as soon as the phone rings what is coming. We are trapped with Jeff, with only our flash bulbs and the hope of a quick rescue. Very few heroes have ever been more sympathetic or more helpless than L.B. Jeffries.
My wife, Jaime, remarked that she rarely sees a director's intent concerning their framing or composition, but while watching "Rear Window," she understood and felt trapped by Hitchcock's visual choices. His shots made her feel uncomfortable and put her right in Jeff's chair. "Rear Window" is apparent in regard to its methods and motives and at the same time completely effective.
We won't meet Mr. Hitchcock again for a while. His other two films on the list are both in the top fifteen. So make sure to get your fill, and spend a little time cooped up with Jeff. Maybe, if you're lucky, Lisa will warm a snifter of brandy for you as they discuss the nefarious activities of their neighbors. I mean really, what could go wrong?
Up next #47 "A Streetcar Named Desire" (1951)
1 Year, 100 Movies #49 Intolerance (1916)
For links to #50-59, click on 1 Year, 100 Movies #50 The Lord of the Rings: Fellowship of the Ring (2001)
For links to #60 – 69, click on 1 Year, 100 Movies #60 Duck Soup (1933)
For links to #70 – 79, click on 1 Year, 100 Movies #70 A Clockwork Orange (1971)
For links to #80 – 89, click on 1 Year, 100 Movies #80 The Apartment (1960)
For links to #90 – 100, click on 1 Year, 100 Movies #90 Swing Time (1936)