For 1 Year, 100 Movies, contributor/filmmaker Trey Hock is watching all of AFI's 100 Years, 100 Movies list (compiled in 2007) in one year. His reactions to each film are recorded here twice a week until the year (and list) is up!
If you wanted to, you could pretty easily make the argument that the films on AFI's list fall into two large categories, director driven films and actor driven films. Our previous film, #48 "Rear Window," would be a perfect example of a director driven film. Hitchcock maintained the tightest grip on his visuals and his actors. Though he worked with some of the best actors, Hitchcock, as a student of the early Russian filmmakers, believed that juxtaposition of images provided the majority of the emotional content within a film.
Then you have the actor driven films. These films may accentuate incredible performances with thoughtful framing, but it's the performances that make the film powerful. #67 "Who's Afraid of Virginia Woolf" comes to mind.
"A Streetcar Named Desire" is the epitome of an actor driven film. Director Elia Kazan came from a stage background. He understood blocking and movement, but he also knew how to wind up his actors and let them go. It doesn't hurt that he was working with Marlon Brando during the rise of the method style of acting either.
With as much credit as Brando gets for his knock out portrayal of visceral, laborer Stanley Kowalski, you'd think the story was all his, but "Streetcar" has a stellar ensemble cast, and each actor gives a dynamite performance. "Streetcar" is the story of Blanche DuBois (Vivien Leigh), a troubled woman past her prime and struggling with the loss of her family's fortune. She moves in with her sister, Stella (Kim Hunter), and her husband, Stanley.
We discover very quickly that Stella and Stanley have a tumultuous relationship that is built around their more base passions. When Stella and Blanche return from an evening out, Stanley becomes enraged at the interruption to his card night. Stella is no wilting flower. She comes back at Stanley and the two of them proceed to tear up the apartment. Stella and Blanche escape to the apartment upstairs, while Mitch (Karl Malden) and the other men try to sober Stanley up. (Sound starts at 10 seconds.)
Brando is fantastic and Stanley's tortured and iconic yell is perfect, but did you check out Hunter's portrayal of Stella. Her decent of the staircase is straight up animal desire. She's not going down the steps to comfort. She's going down to ravage and be ravaged. Hunter's performance hold's its own against Brando's, and yet we rarely see her walk down the staircase in the Academy Award show clips.
The day after the card night ruckus, Blanche pleads with her sister to stand against Stanley, to leave him, but he comes home before she can make her point.
Here we have Vivien Leigh, her voice high and breathy one moment and deep and gravely the next, playing the part of the effete Southern lady. She looks at Stanley's vitality and sees nothing but brutishness. Stella is somewhat swayed, but when Stanley returns, Stella can't deny her own animal side. She runs to him and jumps into his arms. Stanley, who has overheard the entire conversation, makes sure to give Blanche a knowing glance.
Blanche pursues Mitch, one of Stanley's co-workers, but she finds herself alone one evening when a young paperboy (Wright King) comes calling. (Sound starts at 11 seconds.)
This scene could be bizarre or awkward, but Leigh's control over her performance and her nuanced, subtle motions endow Blanche with a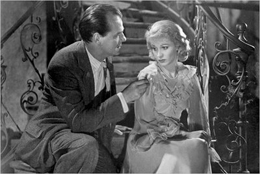 desperate sense of loss. Her interaction with the paperboy, the kiss and then the forced restraint coupled with her comment, is crushing.
We find out later that she was married once, and that her comments towards her husband lead to his suicide. Blanche's youth died along with her young husband. Now she is left to prey on the young, an emotional Elizabeth Báthory. Vivien Leigh, already in her late 30s, gives this role real life and real sorrow.
Stanley, looking for a way to get rid of his sister-in-law, finds out the real reason that Blanche left her small town in Mississippi, and why she "quit" her job as an English teacher.
Within this moment Brando, consumed by his character of Stanley, mocks Blanche, exposes the truth behind her arrival, touches Stella's back in a moment of tender consolation, and serves up a quick, and cutting retort to Blanche's comment. Brando gives Stanley enormous range, and thus makes Stanley a real person.
His battle against Blanche rages on, and Stanley informs Mitch of Blanche's many affairs. Since she had been keeping him at arms length with claims about being old fashioned and feeding him lies about her age, Mitch shows up in a rage ready to discover the truth.
Karl Malden and Vivien Leigh battle it out in this scene. The way the realization crosses Mitch's face, the way the Leigh's voice wavers and moves, the way she rounds on him when she knows that she is found out, each moment is exciting and wonderful. Both performances glow, but when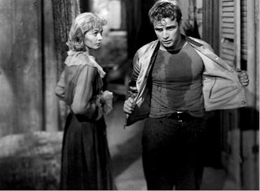 Blanche reveals that she has had many meetings with strangers, in that moment Leigh owns the scene. Her final line is a desperate argument, which all of us know to be true and yet so few can accept. No one within "Streetcar" seems able to.
There is really no denying where the power of "Streetcar" comes from. In 1952 it won 3 of the 4 Academy Awards given for acting. Humphrey Bogart edged out Marlon Brando, for his performance in "The African Queen." Brando's performance may have proved just too gritty and visceral for the time. Kazan's framing is well thought out, but his actors do most of the work.
I get uncomfortable when I watch people emotional destroy each other. I had a lot of difficulty with "Who's Afraid of Virginia Woolf?" but where "Woolf?" seemed more an emotional experiment, "Streetcar" is a story of class struggles, passionate destructive relationships, and characters' resilience and fragility. The performances are exceptional. As a viewer you feel that you are witnessing a transitional moment in motion picture acting. This is where Brando pushes us from the stagey over acting of the first part of the 20th century into the modern method style of acting that many actors who followed would adopt.
Up next #46 "It Happened One Night" (1934)
1 Year, 100 Movies #48 Rear Window (1954)
1 Year, 100 Movies #49 Intolerance (1916)
For links to #50-59, click on 1 Year, 100 Movies #50 The Lord of the Rings: Fellowship of the Ring (2001)
For links to #60 – 69, click on 1 Year, 100 Movies #60 Duck Soup (1933)
For links to #70 – 79, click on 1 Year, 100 Movies #70 A Clockwork Orange (1971)
For links to #80 – 89, click on 1 Year, 100 Movies #80 The Apartment (1960)
For links to #90 – 100, click on 1 Year, 100 Movies #90 Swing Time (1936)