For 1 Year, 100 Movies, contributor/filmmaker Trey Hock is watching all of AFI's 100 Years, 100 Movies list (compiled in 2007) in one year. His reactions to each film are recorded here twice a week until the year (and list) is up!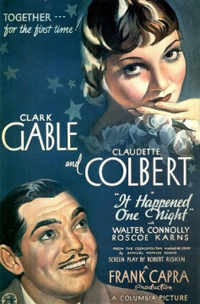 Film #46 on AFI's Top 100 is something of a milestone. It is the first of three films from director Frank Capra that we've encountered. Both of his other films are ranked even higher. Capra is one of two directors to have at least three films on the list and to have all their listed films in the top 50. We'll meet the other director at #32, but for now let's give Capra his due.
I should admit that "It Happened One Night" is not only my favorite romantic comedy, but also one of my favorite films of all time. Robert Riskin's screenplay is simple and almost perfectly structured. Frank Capra's direction is a mixture of well-composed wide shots interspersed with the well-placed close-ups. Capra can live in the wide shot because of his two main actors. Clark Gable as Peter Warne and Claudette Colbert as Ellie Andrews are almost perfect in their development of their characters and their delivery of the often hilarious dialogue.
The story is simple. Ellie Andrews, daughter of Wall Street tycoon Mr. Andrews (Walter Connolly), runs away because her father disapproves of her recent decision to elope with wealthy stuffed shirt King Westley (Jameson Thomas). Andrews is trying to force an annulment of the marriage, when Ellie runs off. As she evades her father's assembled search party, Ellie jumps aboard a bus from Miami to New York, and falls in with Peter Warne, an out of work reporter.
In the following scene, Peter, who tied more than a few on with his buddies, has a disagreement with the bus driver, while Ellie claims his recently cleared seat.
You can already see the cleverness and capability of both actors. Colbert is easily Gable's equal in most if not all of their scenes together. In this particular scene, we can see that Ellie is able to stand up for herself and give a little push back when Peter claims his seat.
Though she is proud and strong, Ellie is unaccustomed to taking care of herself. Because of her naivety, her bag and most of her money is stolen during a stop. Peter tries to rescue the bag, but Ellie shrugs off his gentlemanly gesture, as she tries to maintain her anonymity. Peter stomps back to the bus, offended by Ellie's slight. Ellie chooses a seat away from Peter, but it turns out to be another poor choice. (Sound starts at 6 seconds.)
A fantastic little bit of subtle physical comedy, and not a bad piece of visual storytelling. Not a word spoken, but we have a huge amount of information given to us about both Ellie and Peter as they warm to each other.
Peter discovers Ellie's identity at their next stop, and offers to get her home in exchange for exclusive rights to her story. Ellie is convinced that she can make it on her own and storms off. When they return to the bus, Ellie sits next to Mr. Shapeley (Roscoe Karns) instead of Peter.
The interaction between Ellie and Shapeley is great in part because of Ellie's timely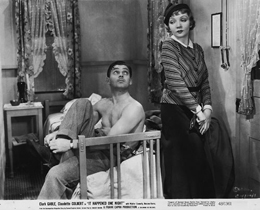 retorts and also due to the pointed and sexual nature of the conversation. The dialogue is devoid of anything offensive, and at the same time it is adult and modern. It's a perfect example of how a comedy can get smart instead of filthy to entertain adults.
Peter again rescues Ellie, who puts up with his firm handling of the situation. Though Peter is gruff and disagreeable, he has loving and considerate motives, and Ellie realizes that she will need his help to get to New York.
The bus comes upon a washed out bridge and must stop for the night. Peter secures a hotel room. Ellie, skeptical of his motives, threatens to run away, but Peter increases his pressure to stay by threatening to turn her over to her father. (Sound starts at 3 seconds.)
How do you make a scene sexy without sex? Capra achieves it by using the threat of sex. Ellie and Peter play a game of chicken. Neither wants to give the other any ground. But when Peter is left with nothing but his pants to remove, Ellie concedes. Peter is a headstrong, cock-sure reporter. He's mildly arrogant, but charming. Ellie is stubborn and intelligent, but lacks street smarts. Neither is sure of the other, but the walls of Jericho offer some security.
Ellie wakes the next morning, refreshed and untouched. With Peter's chaste intentions confirmed, Ellie greets him with a smile. After a quick breakfast, Peter and Ellie overhear approaching detectives searching for her. Peter formulates a quick plan and springs into action.
Again the interaction between Gable and Colbert is absolutely charming. Capra can hold wide shots for a while, because the performances of the two actors are both so good that you can stay on both of them. He doesn't have to cut to close-ups to cover subpar performances in the wider shots.
Ellie and Peter adopt funny characters that are a bit over the top, but still just believable enough for the story to hold. The two of them get rid of the detectives, and grow fonder of each other in the process.
The two travelers end up hitchhiking for the last portion of their trip. Peter explains to Ellie his system of how to hail a car with the flick of his thumb. He puts his theory into practice as she looks on. (Sound starts at 13 seconds.)
Even if you've never seen anything else from this movie, you've probably seen this scene. Not only is this moment a funny play on how a woman can use her sexuality to her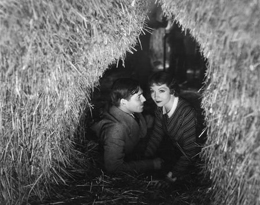 advantage, but also a moment that gives Ellie some real credit for their success in traveling. It also shows Peter begrudgingly, yet good spiritedly eating crow. The two of them are shown as equals, as partners, and as friends.
Their relationship deepens, but because of a miscommunication the two never quite develop a romance. Both obviously love each other; they just can't get things to line up. They make it back to New York, where Andrews has conceded that Ellie may marry Westley, but insists on a church wedding.
Andrews discovers Ellie's feelings for Peter. Since he is still looking for a way to stop the marriage to Westley, he encourages her to look for Peter, but accidently reveals that Peter wants the money he's entitled to for returning Ellie to New York. Both think he's after a reward. Andrews, looking to investigate Peter's intentions, invites Peter to his office.
This is perhaps one of the most wonderful, funny, and truthful proclamations of love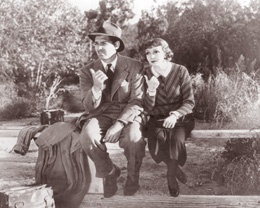 ever. I would also like to point out that the single shot which has Andrews' continued questioning of Peter as they move to the door is 30 seconds without a cut away. 30 seconds is an eternity, but the acting is so good that we hardly notice.
I know I've talked a lot about Gable's and Colbert's performances and a bit about the writing and directing, but really folks they're that good. In 1934, "It Happened One Night" swept the big five at the Academy Awards taking Best Actor and Actress, Best Director, Best Adapted Screenplay, and Best Picture. It was the first film ever to sweep all five top categories, and remained the only one to do so for over forty years.
But don't believe me, just go watch one of the funniest, most charming, most entertaining films ever made. Go watch "It Happened One Night."
Up Next #45 "Shane" (1953)
1 Year, 100 Movies #47 A Streetcar Named Desire (1951)
1 Year, 100 Movies #48 Rear Window (1954)
1 Year, 100 Movies #49 Intolerance (1916)
For links to #50-59, click on 1 Year, 100 Movies #50 The Lord of the Rings: Fellowship of the Ring (2001)
For links to #60 – 69, click on 1 Year, 100 Movies #60 Duck Soup (1933)
For links to #70 – 79, click on 1 Year, 100 Movies #70 A Clockwork Orange (1971)
For links to #80 – 89, click on 1 Year, 100 Movies #80 The Apartment (1960)
For links to #90 – 100, click on 1 Year, 100 Movies #90 Swing Time (1936)