For 1 Year, 100 Movies, contributor/filmmaker Trey Hock is watching all of AFI's 100 Years, 100 Movies list (compiled in 2007) in one year. His reactions to each film are recorded here twice a week until the year (and list) is up!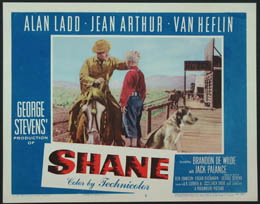 Sometimes in spite of a film's apparent historical significance, it still leaves you flat. You can see all of the aspects that others point out as the great merits and exciting parts of film, but you still just don't quite understand the hype. This "yeah, yeah, I get it, but I'm still just ho hum about this film" attitude has taken a hold of me for #45 "Shane."
Released in 1953 and directed by George Stevens, "Shane" tells the story of a weary gunfighter's attempt to outrun his past and search for peace in the newly settled and fenced American West. Shane (Alan Ladd) comes across the homestead of Joe Starrett (Van Heflin). His young son, Joey (Brandon De Wilde), follows this fringe clad stranger as he approaches the house.
Starrett is skeptical of Shane at first, but when Shane offers some backup against the threat of the local ranchers, who harass the farmers for breaking up the previously unfenced cattle runs, Starrett decides to offer Shane a job as a farm hand.
When Starrett sends Shane into town for some work clothes and rolls of wire, Shane discovers how great the rift between farmer and rancher is. (Sound starts at 3 seconds.)
Here we see the fantastic Ben Johnson as Chris Calloway antagonizing Shane. We also get a glimpse of our main antagonist, Rufus Ryker (Emile Meyer), and his ridiculous hair. Shane plays the role of the bigger man and walks away from the confrontation.
His opportunity to return to town comes quickly, and Shane, the Starretts and the other homesteaders go in for supplies. This time a bit of Shane's true nature bubbles to the surface.
This scene illustrates a number of things about "Shane." First, it shows Joey Starrett as our visual narrator. He watches the fight and so do we. Joey's interactions punctuate and guide the story. I understand the convention, and as far as the story's concerned it works well, but Brandon De Wilde is almost unwatchably bad.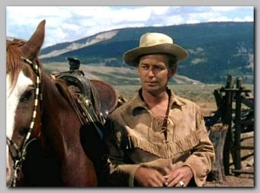 He comes from an era where child actors were largely underdeveloped puppets, who just showed up and delivered their lines. De Wilde's vacant stare and unemotional delivery of almost every line of his dialogue is painful most of the time. Add to that the fact that he's a major part of the film, and you have a recipe for a dated film.
Second, it shows Shane and Starrett as two halves to a whole. Shane is the tarnished hero, willing to get his knuckles bruised and dirty a floor with another's blood. Starrett on the other hand will join the fray, but so far only fights a righteous battle. Starrett has kept his hands from becoming bloodied.
Starrett and Shane fight off Ryker's men, and return to the homestead. Ryker's furious and decides to look for a hired gun to help him scare off the homesteaders.
The various homesteaders gather to celebrate Independence Day. They have a dance, which is interrupted when Torrey (Elisha Cook Jr.) arrives with news of Ryker. Starrett joins the discussion and Shane dances with Marion (Jean Arthur), Starrett's wife. (Sound starts at 8 seconds.)
Starrett smiles and looks on, Marion moves back towards her husband when the dance concludes, but there is a palpable sexual and emotional tension in the moment. Starrett, Marion, and Shane all sense it. Marion and Shane never act on their mutual attraction, perhaps it is out of respect for Starrett, or perhaps it is Shane's attempt to become a good man. Though neither acts, their shared interest continues through the film.
Ryker hires Wilson (Jack Palance), a wayward gunman, to scare off the homesteaders. When the bullheaded Torrey rides into town with a fellow farmer, Wilson baits him.
Jack Palance is great, but with less than 15 lines, he is more a force than a character. Torrey's death sets in motion the inevitable confrontation with Wilson and Ryker, but it's still up in the air as to whether Shane or Starrett will face them.
Starrett takes it as his personal responsibility. Shane sees it as his way to keep Starrett's hands clean, so he may continue his life as a farmer. Unable to resolve who should go, the two men end up fighting it out. When Shane knocks out Starrett, he turns to Marion.
Shane knocks out Starrett and takes up the challenge, because his tarnished past allows him some moral flexibility that Starrett and the others don't have. Shane is protecting them from what they would become if they picked up their guns and shot down Ryker and Wilson.
But that's just what Shane's gonna do.
Perhaps the coolest scene in the whole film, Stevens uses the suspense of the scene to build up to the moment when the guns will blaze. Ladd, Palance and Meyer are great here. Each has a subdued nature that gives the action in this scene an inevitability. If only the rest of the film could have the same feeling.
Rufus' brother gets a shot off, but Shane shoots him down too, before leaving the bar and town. As he departs, Joey catches him, which gives Shane a final moment to pass along the story's moral to the viewers. (Sound starts at 6 seconds.)
You can't live with a killing. It's a brand that sticks. So we have Shane, as the lawless West inhabited by the gunfighters, riding off into the distance, and Joey, as the new settled West of the farmers. He represents the fenced and lawful West.
So all right, I get it. This is a fin de siècle piece about the American West, the open and wild frontier as it transitions to its tamer incarnation. I also understand that we're getting a rough and more rugged version of the Western hero, one that is not just a white hat wearing good guy, but a man who embraces some bad actions in the hopes of a good outcome. We also have the undertones of a forbidden attraction between a gun-slinging stranger and a married woman.
I can see all of that and respect what "Shane" must have been in 1953, but with grittier and more impressive film westerns lower on the list, films like "Unforgiven," "Butch Cassidy and the Sundance Kid," and "The Wild Bunch," that tackle most of the same issues as "Shane," it's really hard for me to get that excited about this particular film.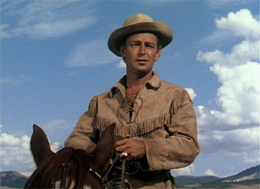 I will say that the images look great. Stevens' visual direction paired with Loyal Griggs' gritty cinematography makes each still look like an antiquated painting of a Western town. Griggs would get the Academy Award for Cinematography for Shane, securing the films only Oscar.
Unfortunately the film feels too long and offers too little to keep up with a modern sensibility that makes room for a flawed and scarred protagonist. Perhaps an important film historically, "Shane" may have opened the door to more complex characters, but once you get to the antiheros of the 70s, a slightly dusty good guy that makes eyes once or twice with a married woman just isn't that challenging.
Next #44 "The Philadelphia Story" (1940)
1 Year, 100 Movies #46 It Happened One Night (1934)
1 Year, 100 Movies #47 A Streetcar Named Desire (1951)
1 Year, 100 Movies #48 Rear Window (1954)
1 Year, 100 Movies #49 Intolerance (1916)
For links to #50-59, click on 1 Year, 100 Movies #50 The Lord of the Rings: Fellowship of the Ring (2001)
For links to #60 – 69, click on 1 Year, 100 Movies #60 Duck Soup (1933)
For links to #70 – 79, click on 1 Year, 100 Movies #70 A Clockwork Orange (1971)
For links to #80 – 89, click on 1 Year, 100 Movies #80 The Apartment (1960)
For links to #90 – 100, click on 1 Year, 100 Movies #90 Swing Time (1936)