For 1 Year, 100 Movies, contributor/filmmaker Trey Hock is watching all of AFI's 100 Years, 100 Movies list (compiled in 2007) in one year. His reactions to each film are recorded here twice a week until the year (and list) is up!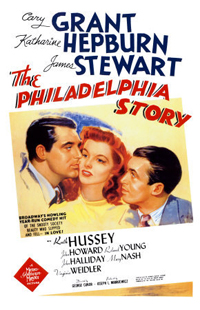 Once when speaking to a class, I referred to comedic farce as a room with too many doors. Typically there is a piece of information that keeps getting passed around, but never delivered to the right person. It's not until the play or film's final moments that our main character realizes that the famous opera singer was always in the next hotel room over, or the man they thought was married is actually single.
"The Philadelphia Story" directed by George Cukor is a farce, but instead of a crucial piece of information floating around and missing its intended recipient, "The Philadelphia Story" is an emotional farce, that has people and feelings being juggled in each scene. Donald Ogden Stewart's adaptation of Philip Barry's stage play sizzles with dialogue that cracks like a whip. Stir in some off the charts star power, as well as a more than capable supporting cast, and "The Philadelphia Story" shines as a brilliant example of just how good comedy and farce can be.
The film tells the story of young socialite Tracy Lord (Katherine Hepburn), a flighty headstrong divorcee, and her plans to marry the upwardly mobile, self made George Kittredge (John Howard). Lord is exceptionally private and openly hostile towards gossip publications, but since the Lord family is one of the oldest in Philadelphia, the editor of Spy magazine, Sidney Kidd (Henry Daniell) wants an exposé on the wedding.
When you find Cary Grant and James Stewart in the same frame, both throwing around fast-paced quips, well you know you're in for a treat. Stewart's Macaulay "Mike" Connor is a bright writer of fiction, who writes for Spy to pay the bills. He is intelligent, but also approachably middle class. C.K. Dexter Haven on the other hand, is so upper class that he needed two extra initials, but Haven is no snob. Grant's portrayal makes this character warm and captivating.
Haven sneaks Connor and photographer Elizbeth Imbrie (Ruth Hussey) into the Lord estate, but Tracy doesn't miss a beat and his plot is soon exposed. (Sound starts at 7 seconds.)
Haven catches up to Tracy and explains that unless Kidd gets his piece on her wedding, he will run an article exposing her father's affair with a dancer in New York. Tracy reluctantly accepts, but decides to have a little fun with the two journalists. She sends her younger sister Dinah (Virginia Weilder) in to entertain and distract them.
I wanted to get this small moment in here to show off some of the supporting cast, in particular Virginia Weilder. Weilder was only 13 when "The Philadelphia Story" was released, but she already had a preternatural sense of comedic timing. Her facial expressions and the physicality of her acting in this moment has a touch of Chico Marx's flare. At 13, Weilder was neither distracting nor mediocre when on screen with Stewart, Hepburn, or Grant. No, she fit right in, and slung dialogue with the best of them. Shirley Temple, a contemporary of Wielder's, may have been everyone's darling, but I'd take Weidler in "The Philadelphia Story" over any schlocky curly haired performance of "The Good Ship Lollipop" any day.
Connor and Imbrie head into town. Liz wants to harvest gossip at the local nail salon while Mike intends to look up the family history. In the library, Mike discovers Tracy doing a little research of her own. (Sound starts at 3 seconds.)
"The Philadelphia Story" continues to build layer upon layer of emotional intrigue. Here we see the budding friendship/romance between Mike and Tracy. We get a snippet of a moral, in the "Rich and Mighty" proverb, but before we can hold on to it, it's gone. We also see Liz, the dutiful colleague, and standby, watching as her love interest, Mike, walks away with Tracy. Oh and it's just going to get more complicated.
Tracy and Mike decide to go for a swim, and while they are toweling off afterwards, Dexter shows up. It seems that he wants to offer a few words in regards to Tracy up coming nuptials. (Sound starts at 16 seconds.)
Grant and Hepburn burn the screen with their acting prowess. I will admit that I'm not always a Hepburn fan, but her spicy, stubborn portrayal of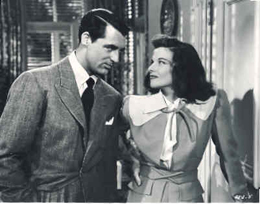 Tracy Lord is both powerful and frail. Cary Grant gives Dexter subtle shifts in tone that make him a touch belligerent, but always loving and even kind, though Tracy doesn't seem aware of his kindness in this moment. Tracy is unreceptive, but Dexter's response to her accusation of his contempt is touching and sincere.
It was suggested in a comment about "Bringing Up Baby," another Hepburn and Grant film, that a Cary Grant hand puppet should be used in place of the current crop of leading men today. The supposition is that even a pale reflection of Grant's appeal would over shadow any current lead actor. Having recently watched "Bringing Up Baby," "North By Northwest," and now "The Philadelphia Story," I'm almost convinced that a Cary Grant hand puppet's in order.
Though Tracy tosses around playful banter with Mike and Dexter, she is still scheduled to marry George. Tracy wants to distance herself from Dexter's comments about her as a goddess, but George's simple devotion make that impossible. (Sound starts at 5 seconds.)
Now the cracks in this paring between Tracy and George, the cracks that so many others have tried to point out, those flaws and imperfections are becoming clear to Tracy. Though doubts have taken seed, Tracy forges on.
Everyone attends a party for Tracy and George. As the party begins to wind down in the wee small hours, Tracy sneaks off, not with George, but with a man of intellectual appeal. She sneaks away with Mike. (Sound starts at 16 seconds.)
Here Tracy begins to come to grip with the reality of her relationship with George. Though she becomes defensive after echoing Dexter's words to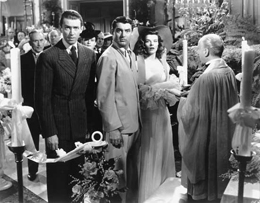 her, their meaning has taken hold. Mike and Tracy end up taking a moonlight swim and kissing in the pool. So we now have a love mix-up between George, Tracy, Mike, Liz, and Dexter, and just less than thirty minutes to get things sorted.
The wonderful thing about this film is that it offers up two wonderful female characters and two awesome male characters, so you are never quite sure which pairing you would prefer most at the films conclusion. Often I found myself cheering for whichever couple was onscreen at each moment. "The Philadelphia Story" is a comedy and we know that all will be resolved. That resolution is surprising and thoroughly satisfying.
Sometimes what the evening calls for is some champagne, some snappy conversation, and a little moonlight dip. When it does, "The Philadelphia Story" is a perfect companion.
Up Next #43 "Midnight Cowboy" (1969)
1 Year, 100 Movies #45 Shane (1953)
1 Year, 100 Movies #46 It Happened One Night (1934)
1 Year, 100 Movies #47 A Streetcar Named Desire (1951)
1 Year, 100 Movies #48 Rear Window (1954)
1 Year, 100 Movies #49 Intolerance (1916)
For links to #50-59, click on 1 Year, 100 Movies #50 The Lord of the Rings: Fellowship of the Ring (2001)
For links to #60 – 69, click on 1 Year, 100 Movies #60 Duck Soup (1933)
For links to #70 – 79, click on 1 Year, 100 Movies #70 A Clockwork Orange (1971)
For links to #80 – 89, click on 1 Year, 100 Movies #80 The Apartment (1960)
For links to #90 – 100, click on 1 Year, 100 Movies #90 Swing Time (1936)