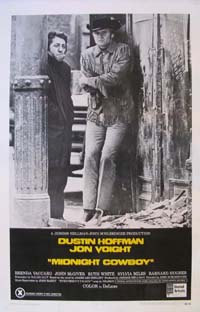 For 1 Year, 100 Movies, contributor/filmmaker Trey Hock is watching all of AFI's 100 Years, 100 Movies list (compiled in 2007) in one year. His reactions to each film are recorded here twice a week until the year (and list) is up!
I think that there is a sense of collective denial surrounding #43 "Midnight Cowboy." People tend to remember what's best about this film, it's two outstanding main characters, but it is not all "Ratso" Rizzo (Dustin Hoffman) and the warm yet stupid Joe Buck (Jon Voight). John Schlesinger's film is also artsy and experimental, but when the more experimental visual styling conflicts with the depth of performance from Voight and Hoffman, we the viewers seem to decisively ignore those moments.
Joe Buck, a tall, handsome, small-town Texan, decides to run from his troubled past. He hops on a bus destined for New York and his new profession, that of a male prostitute that caters to wealthy older women. When he arrives in New York, the scale of the city, and his own naivety both prove formidable obstacles for this wannabe hustler.
You can see from this scene that "Midnight Cowboy" is a character piece that wanders and builds visually. Voight's wide-eyed walk about through New York City tells us all we need to know about his character, Joe Buck.
Joe is not alone for long. There are too many people who are willing to take advantage of this simple-minded newcomer. Joe meets Rico "Rasto" Rizzo in a small bar. Ratso is a crippled con man that seems to take an interest in Joe. When Joe explains his difficulties landing clients as a male prostitute, Ratso offers to take him to meet O'Daniel (John McGiver, the local "manager."
Already we can see that the relationship between Ratso and Joe will be filled with difficulties. Ratso shakes down Joe for cash while leading him to O'Daniel. Joe arrives at O'Daniel's apartment, but it is all a trick. O'Daniel turns out to be a religious fanatic, and his ranting sends Joe into a flashback induced dream world.
This scene shows the mixed media and psychological spaces that dominate the more experimental portions of the film. These abstract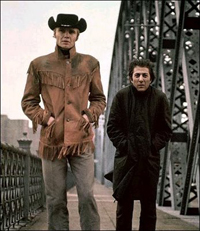 moments are sometimes flashback, sometimes fantasy. Joe's psyche is torn and broken, which makes deciphering what is real and what is not during these moments difficult.
It is apparent that Joe is running from a number of childhood and adolescent traumas, but often these moments feel stuck in the experimental film movement of the late 60s and early 70s. Instead of feeling like timely insights into a disturbed and complex person's head, they feel like unwelcome ruptures within an otherwise compelling drama about two men on the fringes of society. Luckily there are plenty of moments between Ratso and Joe to carry us through.
Joe catches up with Ratso, whose quick talking calms Joe down. Ratso invites Joe, who has recently been kicked out of his hotel, to stay with him at his squat, a condemned building.
From this tense beginning a partnership develops. Ratso is a largely ineffectual con man, and Joe continues to struggle while searching for clients. Money rarely trickles in and the cold of winter catches them before they can escape to Florida.
Joe gets a few dollars for donating blood and springs for a meal in a nearby diner.
Dustin Hoffman is fantastic. His squeaky cartoony voice reaffirms his character, who presents a shifty façade to cover the emotionally crippled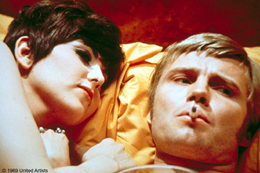 person beneath. Hoffman has small moments where he allows Ratso real emotional vulnerability around Joe. When Joe teases Ratso that he didn't get the invitation, Ratso's appeal is heartbreaking.
Hoffman is great, but don't forget about Jon Voight. His portrayal of Joe is perfect. Voight makes Joe sweet, innocent and simple without allowing the viewer to ever dismiss him as flat and under-developed. Voight walks a fine line, but is able to give Joe emotional depth, while maintaining his trusting childlike nature.
Joe and Ratso go to the party. There, Joe meets an affluent married woman, who accepts his offer of sex for money. She even calls a friend, who makes an appointment with Joe later that week. Joe is finally breaking into the hustling game for real. Unfortunately Ratso has fallen ill, and his injuries are becoming more severe. (Sound starts at 3 seconds.)
After watching a scene like this one, it should come as no surprise that both Voight and Hoffman were nominated for the Academy Award for Best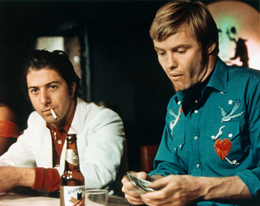 Actor. Neither would win, but how could you really choose one over the other?
Because of its content, which was extremely edgy for 1969 and included male prostitution, underground gay culture, drug use and constant small cons, "Midnight Cowboy" was given an X rating. It is the only film to ever have won the Academy Award for Best Picture with an X. Later on the film would be downgraded to an R, which is probably a more accurate assessment of its content.
Though it is an historically important film, if only for its ability to shine a light on the inadequacies of the MPAA rating system, and Hoffman and Voight both present career defining performances in their respective roles, "Midnight Cowboy" just doesn't quite have the punch or impact that you would expect from a film ranked #43 on AFI's top 100. I think it's a good film with great acting. It's definitely a film worth watching, but I'm not convinced that it should be this high on the list.
Next on the list #42 Bonnie and Clyde (1967)
1 Year, 100 Movies #44 The Philadelphia Story (1940)
1 Year, 100 Movies #45 Shane (1953)
1 Year, 100 Movies #46 It Happened One Night (1934)
1 Year, 100 Movies #47 A Streetcar Named Desire (1951)
1 Year, 100 Movies #48 Rear Window (1954)
1 Year, 100 Movies #49 Intolerance (1916)
For links to #50-59, click on 1 Year, 100 Movies #50 The Lord of the Rings: Fellowship of the Ring (2001)
For links to #60 – 69, click on 1 Year, 100 Movies #60 Duck Soup (1933)
For links to #70 – 79, click on 1 Year, 100 Movies #70 A Clockwork Orange (1971)
For links to #80 – 89, click on 1 Year, 100 Movies #80 The Apartment (1960)
For links to #90 – 100, click on 1 Year, 100 Movies #90 Swing Time (1936)